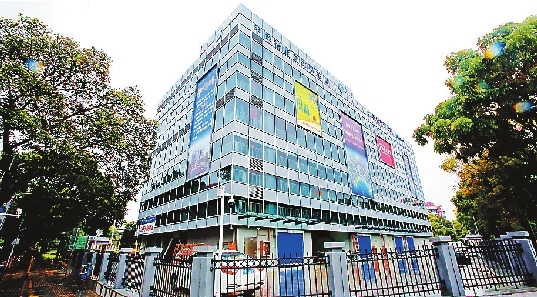 JIA'AN Intelligent Vertical Parking Garage, the first smart public garage in Bao'an District, was put into service Saturday, sznews.com reported yesterday.
The smart parking garage, located at the intersection of Baoming Road 1 and Xinzhen Road West, is expected to ease parking difficulties in the neighborhood, which is home to a number of office buildings, commercial premises and residential compounds.
The parking garage has four entrances and is equipped with high technologies like facial and fingerprint recognition to facilitate the parking process.
According to the report, after driving into the parking garage, motorists can park their cars in a designated area of their choice by following the instructions painted on the ground. The door of the chosen parking area will automatically open after a camera scanner identifies the car's license plate. After parking the car, the door will close in 10 seconds and the car owner can use the self-service machines outside the door to choose a feature from four options: fingerprint or facial recognition, scanning the QR code of the garage or using the garage's app, to register their vehicle and choose a parking-fee payment method. The motorist can see via surveillance camera that their car has been conveyed to a parking space upstairs afterwards.
When the car owner returns to the parking garage to pick up the car, they simply need to operate the self-service machine, using the feature they had chosen when parking the car to pay for the parking fee and locate their vehicles. Their car will be ready at the designated parking area on the ground floor within a minute. Once the door opens, they can get into the car and drive out of the parking garage.
"Parking at Jia'an Intelligent Vertical Parking Garage is simple as that," said Yang Weixiong, chief engineer of the parking project.
According to Yang, the Jia'an parking garage offers 197 parking spaces, including 53 specially for electric cars. There are 15 charging poles on the ground floor to service new-energy vehicles. Yang said it takes an average of 90 seconds to retrieve a car from the parking garage thanks to the smart system.
It costs 10 yuan (US$1.45) for the first hour in the garage and one yuan per hour from the second hour. There is no charge if a car leaves the garage within 30 minutes of entry. The parking fee is capped at 25 yuan per day, and a monthly parking card is available for 400 yuan.
The parking spaces in the garage are designed to accommodate vehicles that are at most 1.95 meters tall, 1.95 meters wide and 5.3 meters long. (SD News)