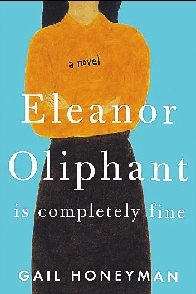 Eleanor Oliphant is one of the most interesting fictional characters that you have come upon in a while. She is blunt. Very blunt. She lacks social skills and tends to spout off facts to people just having conversations. She likes her routine. Every Friday, stop and buy pizza and vodka. And every Wednesday, she talks to her mother. Those are never very good for Eleanor. Her mother is mean and angry. Something happened to Eleanor when she was a child. Something that left her with a scar on her face and moving from foster home* to foster home. Does she remember it all or is it her coping mechanism? Things start to change in her life when her company's bumbling and deeply unhygienic* IT guy, Raymond, and Eleanor help old man Sammy who has passed out in the street. Family is the one thing that she has been missing.
The three become the kinds of friends who rescue one another from the lives of isolation* they have each been living. And it is Raymond's big heart that will finally help Eleanor find the way to repair her own profoundly damaged one.
Soon to be a major motion picture produced by Reese Witherspoon, "Eleanor Oliphant Is Completely Fine" is the smart, warm and uplifting story of an out-of-the-ordinary heroine whose deadpan* weirdness and unconscious wit make for an irresistible journey as she realizes.
You will fall in love with Eleanor.
(SD-Agencies)