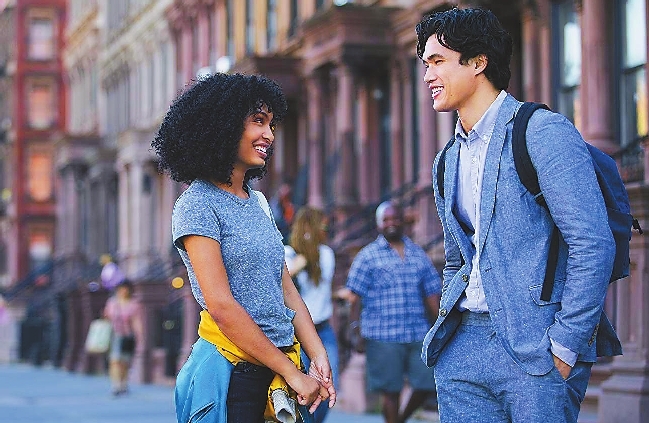 Based on Nicola Yoon's best-selling YA novel, this film of the same title stars Yara Shahidi and Charles Melton.
Shahidi plays Natasha, whose family is about to be deported* back to Jamaica. They are scheduled to leave the next day, but Natasha is making one last effort to reopen their case, meeting first with an immigration officer and later with a lawyer. Her voiceover sets up the story, as she says that the astronomer* Carl Sagan was her hero, because he valued facts. Her allusions to science here and there in the film are literary devices that don't translate well to the screen. She is also sentimental* about the idea of home, which to her is New York.
Melton is charming as Daniel, who is heading off to a college interview. His parents, immigrants from South Korea, insist he should attend Dartmouth and become a doctor. All he wants to do is write poetry, as suggested by his roomful of books by Emily Dickinson and Walt Whitman.
He scribbles* the phrase "Deus Ex Machina*" in his notebook of poems. Later, when he sees Natasha wearing a jacket with that phrase emblazoned on the back, he sees it as fate and chases her out of Grand Central Station, where she has been staring at the stars painted on the ceiling.
Daniel follows Natasha into the subway, down to Chinatown, past restaurants and streets crowded with food stands and delivery people on bikes. He avoids a stalkery* meeting by saving her from stepping in front of a speeding car, and she agrees to let him try to persuade her that love is real.
Together, Natasha and Daniel go through a day of hopes and reversals, of canceled and rescheduled appointments. She even meets his family because an errand takes him to the business they own, a store selling black hair-care products in Harlem. In a brief culture-clash episode, Natasha meets Daniel's older brother and his father, who insults her by suggesting she could use some hair relaxer.
But she and Daniel never stay put for long. They hit the Hayden Planetarium at the Museum of Natural History, because, after all, she's a girl who likes stars and thinks the sun is underappreciated. The screenplay by Tracy Oliver doesn't help the actors. Natasha talks a tough game about love, then suddenly we see her fantasy of a future with Daniel: They kiss, they get married, they have a family.
She's weighed down by her family's impending* departure, a secret she tells Daniel only toward the end of the day as she heads off to see the immigration lawyer.(SD-Agencies)