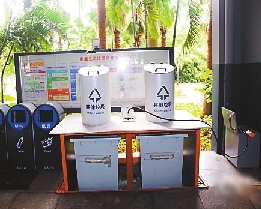 TWO underground mobile waste containers placed in a Longgang District residential compound have caught the attention of many local residents.
The waste containers in the Lanzuanfengjing residential compound in Baolong Subdistrict, were said to be the first of their kind in the city, and Baolong Subdistrict is the first in the city to introduce such garbage containers.
The white waste containers have many advantages over the traditional ones, the report said. The equipment contains two 660L garbage cans.
According to the report, the containers are placed underground to ensure a clean and hygienic environment in the neighborhood and they can be automatically transported upwards to the ground for garbage disposal. They save space too, the report said.
The introduction of the waste containers has earned acclaim from residents in the neighborhood. A resident who wasn't identified in the report said that the new equipment addressed their concerns.
"There was usually a smell coming out from the old garbage cans and stinky water on the ground. Now, it no longer bothers us," the resident said.
The new garbage container, as it is placed underground, effectively improves the hygiene in the area and isolates the waste odor, according to a staffer with the subdistrict office.
The automatic transportion of the underground containers also enhances waste-handling efficiency, the report said.
(Wang Jingli)