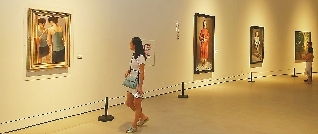 Debra Li
Debra_lidan@163.com
MORE than 30 oil paintings by five contemporary Chinese artists are being shown at the Artron Art Center in Nanshan District.
These include portraits, still lifes and landscapes by Li Guijun, Zhang Xudong, Chang Lei, Xia Libin and Wang Jian.
Li, born in 1964 and a pupil of Jin Shangyi and Yang Feiyun at the Central Academy of Fine Arts (CAFA), is one of the third-generation representatives of Chinese classical painters. With superb skills, Li's works convey an unusual beauty in harmony: The images are simple with variations, displaying good control of the overall structure and images charged with imagination.
Standing in front of his portraits, one cannot help admiring the beauty of the young women and birds depicted in them.
Zhang, also a CAFA graduate, displays several landscapes at the Artron show. The unique approach of light in his paintings gives life to the exuberant trees and Chinese gardens.
Chang, born in 1972, is not just a painter but an established theorist and art reviewer. His still life paintings, though simplistic, are praised for their soothing beauty.
Xia, 39, is also a pupil of famous artists like Jin Shangyi, Yang Feiyun and Chao Ge at CAFA. His works on display include landscapes by tempera on canvas. Using sands mixed in the colored pigments, his cityscape works capture the impression of a depressive modern life, and present the city in a post-apocalyptic style.
Wang, born in 1987 and the youngest of the five, graduated from the oil painting department of Minzu University of China. With bright contrastive colors, a cat or two hidden somewhere and the main subject always covering up half of their faces with a book or other things, his portraits are quite distinctive with a modern pop-art look.
The exhibition is a highlight of the China International Cultural Industry Fair (ICIF) subvenue at Artron.
Into its fifth year as a subvenue of the ICIF, Artron Art Center has also staged an exhibition of photo albums by famous photographers and a show of covers of art books. A series of lectures on such topics as traditional Chinese paintings, the preservation of antique garments in the Forbidden City and Kunqu opera were held to give citizens a better understanding of traditional Chinese art and culture.
Dates: Until June 17
Venue: 5/F, Artron Art Center, 19 Shenyun Road, Nanshan District 南山区深云路19号雅昌艺术中心5楼
Metro: Line 2 to Qiaochengbei Station (侨城北站, Exit D