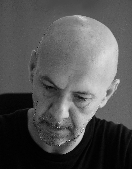 Li Jing
1793367393@qq.com
WHEN it comes to a landscape, trees, plants and flowers will pop into the layman's head. But Antonio Inglese, a professional architect from Salerno in southern Italy, thinks differently. To him, everything in a space outside the architecture is part of the landscape, while trees, plants and flowers are just decorations on the landscape.
"You may decorate the landscape and you may not," said the 52-year-old, who is working as design director at Nanshan-based Shenzhen Hope Landscape & Architectural Design Co. Ltd. "The key point is to strike a balance between the architecture and the landscape, which is more about social space, and less about trees and plants. In landscape design, what we do is to set up the space for people. If people feel comfortable, the design is right."
With a master's degree in architecture, Inglese's life began to be entwined with Shenzhen in 2006 when he was invited by a local company to make a bid to design the Bao'an Waterfront Park, a public project under the Bao'an District Government, which he eventually won.
"For that project, I worked in Shenzhen for about two months. I remember that when I landed in the city, the strong vegetation here — large trees and plants — startled me, a stranger from a Mediterranean country," he said. "That was also the first chance I had to come to China, even Asia."
Since then, Shenzhen has been an important stop in his life, and he ultimately decided to settle down in the city. Over the years, he has won many high-profile landscape projects all over China — in his words, nearly every province and region in the country except for Tibet. Among his projects in Shenzhen are Xiangmi Park, Prince Plaza, Shenzhen Vertical Low-Carbon Village, Shuibei Rooftop Garden and Founder Headquarters Campus. His high-quality designs highlight the natural layout of the land while enhancing the aesthetics of the surrounding architecture. In 2010, Antonio, who considers the motto "every line has a meaning" as his main design approach, was hired by Bao'an District Government as an expert consultant for the planning of Bao'an CBD and acted as a juror for many international competitions.
He singled out his work on a resort project in an old village in Guangxi Zhuang Autonomous Region in 2014, which he said was a very "strong experience."
"I spent almost two years on the project. With a lake, the village is so beautiful. I was so impressed," he said. "So when the developer told me that they wanted to build a hotel by the lake, I was strongly opposed to the idea."
He had to do a lot of speaking to convince the developer that the lake was the appeal to tourists and the hotel would be a stain on the natural beauty, which could adversely affect the profits they were trying to pursue.
The latest project he is working on in Shenzhen is a public park to be built on the rooftop of a sewage factory in Longgang.
He has urged Shenzhen to pay more attention to creating appropriate social spaces where people can live comfortably, rather than simply emphasizing space for business development.
"I think Shenzhen needs to do something to rebuild the people-sea relationship like it had 40 years ago."