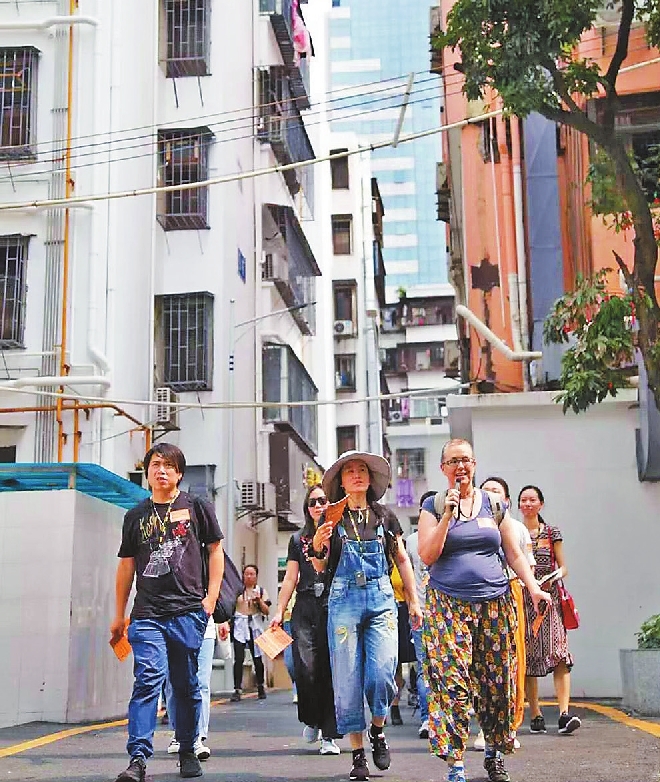 "On the one hand, we are interested in how the transformation of Shangbu Village into Shangbu Administrative Zone contributed to the transition of Bao'an County to Shenzhen City. On the other hand, we are curious about how the subsequent transformation of the Shangbu Industrial Zone into the Huaqiangbei area contributed to Shenzhen's transition from being the world's factory to being the Silicon Valley of Hardware."
— Mary Ann O'Donell
Sally Wang
sallywlwang@hotmail.com
THE latest tour led by Mary Ann O'Donell, or Lao Ma, and her Chinese teammates from Handshake 302 took us — a flock of Shenzhen history and culture fans — to an economically and technologically significant spot: Huaqiangbei.
Huaqiangbei is a major electronics marketing hub, previously known worldwide for its counterfeit electronic products and now as the "Silicon Valley of Hardware."
O'Donell, an anthropologist from the United States who has been based in Shenzhen since the 1990s, led the multinational group of 20-or-so members to explore the Huaqiangbei area earlier this month, examining its past and present, or in O'Donell's words, "Huaqiangbei 1.0" and "Huaqiangbei 2.0," each of which coincides with the development of Shenzhen from a small town to a metropolis marked by innovation and technology.
Huaqiangbei 1.0
Paddies to industrial park, and military to civilian manufacturing
"Most people who come to Huaqiangbei know nothing about Shangbu. They don't understand how Huaqiangbei emerged out of the transition," said O'Donell.
I, being one such person, was all ears as O'Donell revealed the story of local change.
The Huaqiangbei area used to be part of the Shangbu Industrial Zone, while the industrial zone was transformed from Shangbu Village in the 1980s. The Chinese character "bu" came from another character pronounced "bo" in Cantonese that means pier, thus Shangbu means "upper pier" as the village was situated 500 meters north of Shenzhen River. Rural Shangbu was comprised of the Shangbu and Chiwei piers, rice paddies and lychee orchards, and a few mountains. "Where you are standing now used to be farmland," said O'Donell.
The pictures shown on the tour handout entitled "Liminal Space: The Cultural Geography of Huaqiangbei" illustrate clearly the farmland along the planned Shennan Road in 1982 and then later the factories and housing lined up along the newly built Shennan Road in 1985.
O'Donell elaborated on the stories of change from both national and local perspectives, weaving the multiple events that occurred then in China into a complete picture. The Chinese Central Government led by Chairman Mao Zedong moved important industries from major cities to the interior parts of China — in the so-called Third Front Movement of the 1960s — and made large-scale investment there to develop national defense, technology and basic industries while avoiding potential war threats. With the reform and opening up starting in the country in the 1980s, many Third Front factories inevitably went into decline.
Shangbu then became the best example of how Third Front factories were used to construct a new city, according to O'Donell. When the special economic zone was set up in Shenzhen in 1979, various ministries under the Central Government moved some Third Front factories into the city to help develop its electronic and information industries.
The current Huaqiang Holdings Co. was developed from a military enterprise in northern Guangdong Province, with its products also changing from military to civilian parts and consumer goods. Meanwhile, 25 small factories from a Third Front base in Guiyang, Guizhou Province specializing in electronics, aviation and space were reorganized into Zhenhua Electronic Industrial Co. (now Shenzhen Zhenhua Group Ltd.) to form assembly lines and manufacture commercial electronic goods.
The Third Front factories began constructing Shangbu Industrial Park in the early 1980s, bringing workers and their families as well as "compound culture" to Shenzhen as people from the same Third Front area lived in the same compound. Many compounds had their own clinics and hair shops, forming small societies relatively isolated from each other.
The booming of the industrial park gradually upgraded the area, which used to be a bleak suburb of Shenzhen proper.
Huaqiangbei 2.0
From manufacturing center to
commercial center
The late 1980s and 1990s witnessed the region's turning from a significant manufacturing center to an even more important electronic trade center and commercial area.
As time went by, Shenzhen Electronic Group was formed in 1986 under the preview of the Ministry of Electronics Industry, later being renamed Saige Group. Saige built a specialized electronics market in Huaqiangbei, a rare and timely happening for the country, facilitating information and technology transfers and trade.
The flourishing trade center gave birth to the efficient production of electronic products, in particular counterfeit mobile phones in which the design and function was copied or imitated from branded phones and sold at much lower prices. As all the electronic components required to assemble a mobile phone could be easily accessed in the booming markets, Huaqiangbei became a trade center for cheap mobile phones, attracting clients from both home and abroad.
Meanwhile, Huaqiangbei's transition from a manufacturing to a commercial center was accompanied by the reorganization of the area.
Huaqiangbei has an interesting history, said O'Donell, adding that one of the major challenges Shenzhen continuously handled in past decades was what to do with factories that were no longer in use.
Factory buildings were rented for commercial use, and shops moved in, including the renowned Women's World, a five-story shop catering to women workers and clients that opened in 1995, much earlier than most other shopping malls and department stores in the city.
The walls that isolated compounds from each other soon came down, connecting internal roads to the road networks; property owners and tenants also modified buildings to facilitate public access to commercial spaces; and additional roads and alleys were added to the extant grid in order to increase circulation within the area, said the Huaqiangbei tour handout.
Meanwhile, new schools, hospitals and the city's museum were built, forming the idea of what the city should be like.
Ongoing changes
The bustling Huaqiangbei has in recent years won itself a reputation as the "Silicon Valley of Hardware." According to O'Donell, the reason that Huaqiangbei became the hub of international technology is its convenient access to global logistics.
The kind of internationalization found in Huaqiangbei is restaurants and logistics companies that provide services to worldwide buyers, said O'Donell. Many of the popular gadgets designed or made here can immediately be arranged to be shipped via Shenzhen or Hong Kong ports.
There is another side of the story, according to O'Donell. It is said that a former leader of Shenzhen, Wu Nansheng, had mobilized hundreds of thousands of people from the Chaoshan region in east Guangdong Province to the newly established city of Shenzhen. As a result, many family businesses in Shangbu markets were overwhelmingly owned and run by Chaoshan people, claimed O'Donell. Famous for their extraordinary capabilities in doing business, the Chaoshan people formed a strong group in the diversified city.
Finally we walked through various logistics companies that put the names of exotic countries from different continents on their windows to represent their vast shipment destinations, and entered a building flanked by a Turkish restaurant and a Chaozhou snack store to visit the electronic market inside. Our tour group — chatting in English, Mandarin and Cantonese — observed curiously everything in Huaqiangbei, tasting the local and international flavor around us that is making the city ever more dynamic.