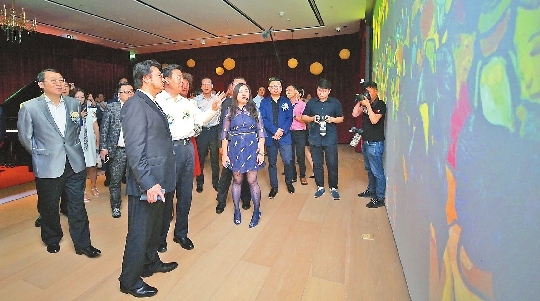 Wang Jingli
wangjingli0715@163.com
ZHIZHENG Art Museum's new hall and the China Resources art gallery officially opened at China Resources Headquarters in Nanshan District yesterday.
A new cultural landmark in the Guangdong-Hong Kong-Macao Greater Bay Area covering an area of 2,500 square meters, the new hall was jointly developed by ZhiZheng Wenbo Group and China Resources.
The cooperation is a move in response to the city's focus on cultural development.
An exhibition called "A Light Chaser — Marvelous Exhibition of Vincent van Gogh" was also launched yesterday and will run through Sept. 28 as an extension of the 15th China (Shenzhen) International Cultural Industries Fair, which wrapped up last week.
The exhibition offers 10 interactive experience spaces and presents 21 classic artworks authorized by eight world-renowned museums, including The Museum of Modern Art, The Courtauld Institute of Art and Israel Museum. These works are being presented in Shenzhen for the first time.
Brand-new AI, AR and light special effects technologies have also been applied to enhance visitors' experience.
ZhiZheng Wenbo Group has been devoted to the inheritance and development of Chinese culture since its founding.
One of the biggest private museums in China, ZhiZheng Art Museum has over 10,000 collection items, including ceramics, jade and wood carvings. It is also the first private museum in China to have established a relationship with UNESCO.
For over 10 years, ZhiZheng Art Museum has been open to the public free of charge.
The new hall will continue to provide exquisite collections at home and abroad to enrich residents' cultural lives and to enhance the city's cultural influence.