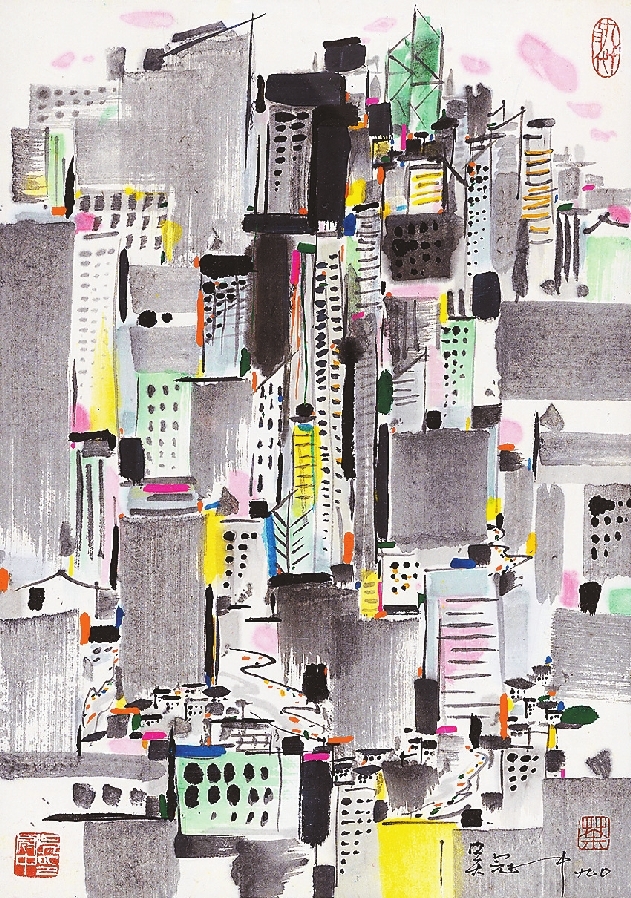 Debra Li
Debra_lidan@163.com
SCORES of paintings and works of calligraphy by late and contemporary Chinese artists, which will appear at Rong Bao Zhai's spring auction in Beijing next month, have toured to Shenzhen for brushwork connoisseurs to enjoy.
The pop-up show at the newly opened Sanfeng Museum of Art in Futian District features works by such masters as Qi Baishi, Zhang Daqian, Xu Beihong, Li Keran and Wu Guanzhong as well as established contemporary artists like Zhao Shao'ang, Yang Zhiguang and Xu Qinsong.
Entering the hall with precious masterpieces densely lining the walls, visitors will notice that the front door has been remodeled after Wu Guanzhong's painting "Water Village," which poetically contrasts the black tiles and white walls with colorful pebbles in front of the doorway.
Wu (1919-2010), a Yixing City, Jiangsu Province native drawing influence from both Chinese traditions and Western art, had been a pioneer in exploring the new boundaries of Chinese art all his life. His works between the 1950s and 1970s were mostly oil paintings of Chinese landscapes, while his later works, like "Hong Kong," "The Great Wall" and several others displayed at the show, were freehand ink paintings experimenting with bold colors.
Take "Hong Kong" for example: With the skillful use of lines, points and blocks, the various shades of ink provide the outlines of highrises old and new and zigzagging alleys in between. The pink, orange, yellow, blue and green, reminiscent of neon lights adorning the buildings, liven up the painting and immediately invoke an image of Hong Kong, not to mention the landmark Bank of China Building in Central depicted at the top.
Interestingly, the works of another artist who had been friends with Wu but later disagreed with his bold artistic ideas are also on display. Xu Beihong (1895-1953), from Wu's hometown, has a similar background as Wu, but stuck to a more realistic approach to painting.
Xu's ink painting "Hanshan and Shide" is featured at the exhibition. The two figures, whose names can be translated as "Cold Mountain" and "Pick Up," have often been depicted as a pair in paintings with a Zen motif. Hanshan was believed to be an eccentric Zen poet from the Tang Dynasty (618-907), whose sympathetic friend Shide was a kitchen worker at Guoqing Temple who always brought food to him. The two spent a lot of time wandering in nature seeking out inner peace.
Created in 1944 at 50 years of age, Xu's painting depicts the two characters as carefree kids, one squatting on the ground carrying a basket of vegetables and the other standing behind with a toad on his shoulder. Both are grinning happily. Quite different from the images of the duo in previous Chinese paintings, Xu's painting, vivid in details, shows an influence from Chinese folk culture and Spring Festival paintings as well as Western oil paintings.
Also worth noting are several paintings by Li Keran (1907-1989), including one depicting two cowherds riding their buffalos under dangling willow branches. Li, famed for his vivid depiction of buffalos, used a flexible freehand style to present a poetic scene of village life.
Flower paintings by Wu Changshuo (1844-1927) and calligraphy works by Lin Sanzhi (1898-1989) are too displayed. Lin was especially admired for his cursive hand calligraphy.
Besides the traditional Chinese art pieces, 12 works of thangka by two contemporary Tibetan artists and a batch of pottery items in the collection of the museum are on display.
Rong Bao Zhai, first opened as Song Zhu Zhai (Pine and Bamboo Studio) in 1672, is a Beijing-based old stationery, calligraphy and painting shop.
Admission is free.
Time: Until Thursday, May 30
Venue: Sanfeng Museum of Art, 2 Zijing Road, Futian District (福田区紫荆道2号三丰艺术馆)