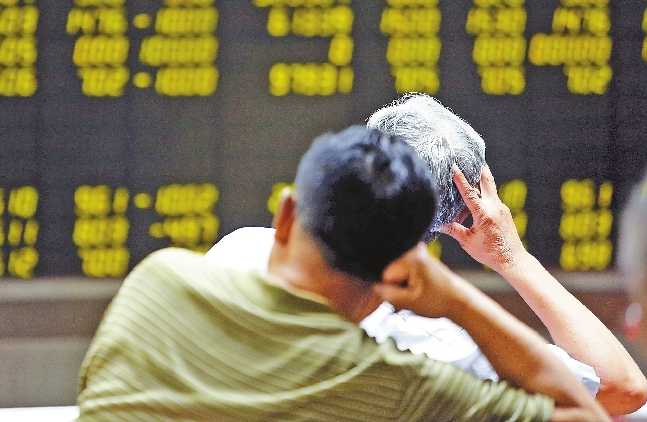 STOCKS listed in Shanghai and Shenzhen fell Friday, posting the worst monthly decline since last October, as festering trade tensions between China and the United States reduced risk appetite and stoked economic slowdown fears.
At the close of trade, the blue-chip CSI300 index fell 0.3 percent to 3,629.79, while the Shanghai Composite Index lost 0.2 percent to 2,898.70 points. For the month, the CSI300 index and the Shanghai index fell 7.2 percent and 5.8 percent, respectively, recording their biggest monthly decline since October last year.
Trade tensions between China and the United States rapidly worsened last month, after U.S. President Donald Trump slapped fresh tariffs on US$200 billion in Chinese goods, triggering retaliation from China.
While souring trade relations with the United States grounded China's bull market to a painful halt last month, stocks are now meandering through their longest streak of calm since February. But investors will have no rest in June, with a key meeting between President Xi Jinping and Trump to watch out for.
Any indication of how China's economy is coping will also be crucial. The manufacturing purchasing managers' index for May dropped to 49.4, according to data released Friday by the National Bureau of Statistics, worse than the 49.9 forecast by many economists.
"Short-term noises can still overwhelm even the staunchest long-term investors, especially in a market where fund managers are measured and ranked daily," Bocom International Holdings Co. strategist Hong Hao wrote in a note Thursday.
While May is rarely a good month for onshore equities, this past one was its worst since 2011. After passing the bull-market threshold in February, the Shanghai index is down 11 percent from April's peak. A small consolation: traders in Hong Kong actually fared worse last month, and those in the United States didn't do too well either.
Investors in China are scaling back the amount of leverage in the stock market, a sign that risk appetite and buying momentum are deteriorating. (SD-Agencies)