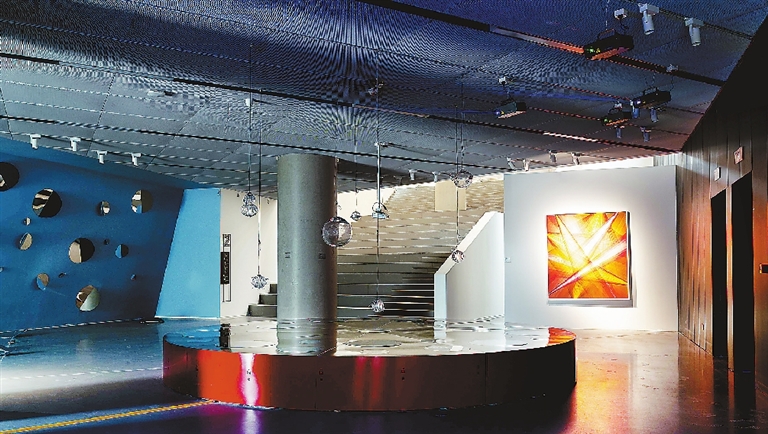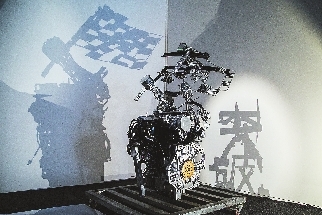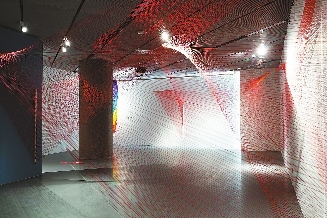 Wang Jingli
wangjingli0715@163.com
AN interactive new media art exhibition with the theme of light is being held at the Design Museum in Shenzhen International Art Design Center (iADC) in Bao'an District.
The exhibition, called "Another Kind of Light," presents 14 groups of artworks by seven media artists from home and abroad who use different forms, materials and mediums to depict their various worlds of light from different perspectives.
A strong visual force immediately impacts viewers who enter the exhibition: a Mobius triangle world consisted of thousands of red fibers. The space includes two installation art pieces, "The Other Side of Light" and "A Ton of Rainbow" by young artist Gu Benchi.
Irish artist David Keohane brought two installation art works, namely "Profile-Wood in the Rough (Pumu)" and "Quantum Entanglement." In "Quantum Entanglement," cats, a symbol in quantum mechanics, are combined with an equation projected on the wall by lasers. Inspired by Schrodinger's Law, Keohane created the work to pay a tribute to the quantum theory.
Another work, called "Draw the Recumbent Sunshine Here and Now," designed by artist Ji Wenyu, is said to be a tribute to impressionism. Ji recorded the changes and colors of sunshine at different times in one day to create the work.
Several three-dimensional calligraphy works designed by Ma Jin then came into view. Ma is an artist and a pioneer in three-dimensional calligraphy. In this innovative art form, it is possible to see three different Chinese characters in one sculpture from different perspectives. It is made possible by contemporary 3-D modeling and printing technology as well as the effects of light and shadow.
Female artist Wu Xiaojuan believes that light is transient, shifting us from states of familiarity to unfamiliarity, from simplicity to complexity. Working with distinct light materials and fibers, Wu created a fabulous light world which she called "Theater of Light."
Next up, there is a visual installation art piece called "Walk With the Light," which was created by contemporary glass artist Qin Ling, who delivers the charm of light by combining images with mirrors of different shapes.
Another highlight of the exhibition is yet another interactive space created by artist David Keohane. The artwork was called "Space and Time Love," where the artist simulated a performance played by a harp with 22 strings. The harp's notes are simultaneously played as people enter the area.
Dates: Until June 30
Hours: 10 a.m. to 5 p.m. (Closed on Monday)
Tickets: 58 yuan
Venue: Hall F2, Design Museum, International Art Design Center, Bao'an District
Metro: Line 11 to Songgang Station (松岗站), Exit G