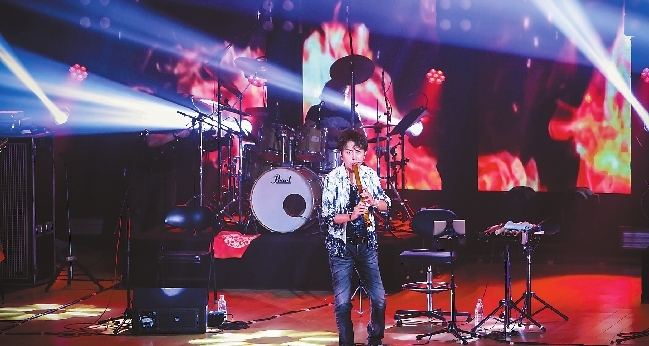 Cao Zhen
caozhen0806@126.com
POP shows, musicals, classical concerts and children's plays are among the offerings at the first Greater Bay Area Art Festival, which is running in Shenzhen, Guangzhou, Foshan, Hong Kong and Macao until the end of July.
Organized by AC Orange Group, a Shenzhen-based ticketing, theater management and performance art company, the festival, having started in March, will provide in total more than 80 shows in the five cities.
"Compared with Guangzhou and Hong Kong, there are not many shows in Shenzhen every year. We aim to not only organize more shows in the Greater Bay Area but also create co-productions. This year, we organize shows in the five cities and we hope to cover more cities in the future," said Geng Jun, chairman of AC Orange Group at the opening of the festival in Shenzhen on May 24.
Au Yuk-fong, general manager of Cultural Services Branch of the Hong Kong SAR Leisure and Cultural Services Department (LCSD), said, "The LCSD organizes more than 6,000 shows in Hong Kong every year and we are willing to support Hong Kong performance troupes to present their quality shows on the mainland."
Che Fok-sang, general manager of Chessman Entertainment and Production Co. Ltd. in Macao, said that Macao has developed an up-and-coming cultural industry in recent years, striving to diversify its business by shifting from gambling to entertainment. Chessman, one of the partners of the Greater Bay Area Art Festival, now engages in entertainment production and artist management with offices in Macao, Hong Kong, Beijing and Portugal.
Highlighted performances in Shenzhen include the beloved French musical "Romeo et Juliette" at Nanshan Cultural and Sports Center (NCSC) on July 12-18, French singer Laurent Bàn's solo concert at A8 Live on July 12, Israeli puppet show "Renaissance Four Seasons Fantasia" on every weekend in June at NCSC and Japanese shakuhachi (bamboo flute) player Kinohachi's concert at NCSC on July 5.
"Romeo et Juliette," with music and lyrics by Gérard Presgurvic, tells Shakespeare's story in an entertaining way to allow modern audience members to understand the classic. The Galilee Multicultural Theater's "Renaissance Four Seasons Fantasia" tells a story based on the poems written by Antonio Vivaldi in the introduction to his classical music piece "The Four Seasons."
More classical music concerts will be held at the NCSC and Xinqiao Cultural and Art Center in Bao'an District. Schedule and ticketing information can be found at juooo.com.