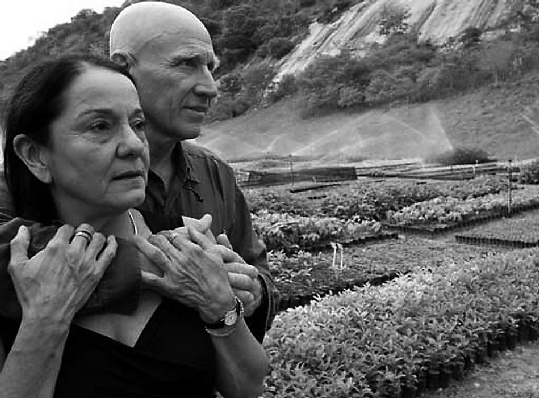 BRAZILIAN photojournalist Sebastiao Ribeiro Salgado and his wife Lelia Deluiz Wanick Salgado have spent the last 20 years planting a 1,750-acre (708 hectares) forest to transform a barren plot of land in Brazil's Minas Gerais state into a tropical paradise.
When Salgado returned from a traumatic trip covering the Rwandan genocide in 1994, he was shocked to find his family's former cattle ranch in a state of natural degradation.
"The land was as sick as I was — everything was destroyed," the famed photographer said at a meeting on climate change in Paris in 2015. "Only about 0.5 percent of the land was covered in trees."
Salgado, now 75, remembered the farm he grew up on as a lush and lively sub-tropical rainforest, but the area had suffered from rampant deforestation and uncontrolled exploitation of natural resources.
His wife had the idea to replant the forest.
"It was so natural, instinctive. The land was so degraded, so horrible. What a bad gift! Why not plant?" Lelia told Smithsonian Magazine in 2015.
So the award-winning photographer known for his black-and-white depictions of human suffering around the world turned his hand to healing the land of his youth.
In 1998, the couple founded the Instituto Terra, an environmental organization dedicated to the sustainable development of the valley.
They elicited the support of Vale, one of the world's biggest mining companies and reforestation experts, which donated 100,000 seedlings from its nursery and helped rejuvenate the "dead soil."
Those first seedlings were planted at the Bulcao Farm in 1999 by local school students, marking the beginning of a close relationship with the community.
In the 20 years since then, the badly eroded land has been completely transformed "into a fertile woodland, alive with flora and fauna," according to Instituto Terra's website.
Hundreds of species of flora and fauna now call the former cattle ranch home, including nearly 300 species of trees, more than 170 species of birds, 30 species of mammals, and 15 species of amphibians and reptiles — many of which are endangered.
(SD-Agencies)