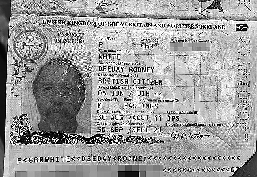 A FISHERMAN in the U.K. named his son Dee-Day for the historic military operation after welcoming the baby boy into the world June 6, 1944.
Dee-Day Rodney White is set to turn 75 today, the anniversary of the Normandy invasion.
His father, Bert, decided on the unique moniker after hearing the phrase repeatedly on the news.
Staff at the registry office weren't as keen on the name as he was, initially telling him he could not use it — but Bert had the dutch courage to put up a fight, having visited a number of pubs on the way, and eventually convinced them.
Now an antiques dealer, Dee-Day has told of his father's decision and how the unusual name has affected his life.
Dee-Day said, "My mother, May, told my father on June 5 not to go out the next day because she thought she would be going into labor.
"At 3:40 a.m. on June 6, I was born and she asked my father to have my birth registered in the morning. He kept hearing 'D-Day' on the news and couldn't get it out of his head.
"He visited a number of pubs along the way to the registry office — fishermen were big drinkers — and kept hearing 'D-Day.'
"So he told the registrar he wanted to call me D-Day — but they said no, that's not a real name — that's impossible. It's a secret code word. So he left.
"He told my mother about it and she said she just wanted her baby to have a name.
"So he went back the next day with a copy of a newspaper and told them 'it's not a secret anymore, those Germans know all about it.'
"He cleverly told them he wanted to spell it 'Dee-Day' and eventually they let him."
Dee-Day has always worn the name as a badge of honor, visiting Normandy on his birthday 10 times in total to be a part of D-Day celebrations.
But at times, the name has hindered him. Dee-Day said, "When I was a teenager, I couldn't lie about my age — everyone knew when D-Day was.
"So if I was at the pub trying to get served while underage, they knew. And if I was trying to chat up an older girl, they'd know my age because of the name!
"And if I had been out with my friends causing trouble, policemen and other people would always remember me because of the name — not any of my friends."
Dee-Day, from Hastings in East Sussex, first visited Normandy aged 18, and his last visit was two years ago.
During those visits, he has proved popular among veterans because of his name.
(SD-Agencies)