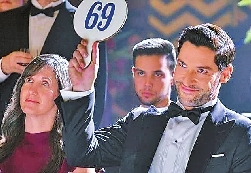 'Tokyo Vice'
ANSEL ELGORT is doing his first series.
The actor, who starred in "Baby Driver" and is shooting Steven Spielberg's remake of "West Side Story," will star in "Tokyo Vice" for WarnerMedia's streaming service.
The project based on a non-fiction book by Jake Adelstein has a 10-episode straight-to-series pickup. Elgort will play Adelstein, an American journalist who embeds himself into the Tokyo Metropolitan Police squad to reveal corruption. J.T. Rogers, the Tony Award-winning playwright behind "Oslo," is writing the series, which will be directed by Destin Daniel Cretton, the filmmaker behind "Short Term 12" and "Glass Castle."
Final season
TOM ELLIS (R) is so excited about the renewal of "Lucifer" that all the actor can do is scream in Netflix's renewal video announcement. "Thanks to the lucifans, #lucifer's story will come to an end the way it should: the fifth and final season is coming to @netflix," the "Lucifer" tweet read.
The show follows Ellis' character, Lucifer, the fallen angel and Lord of Hell, as he moves to Los Angeles, opens a nightclub and meets a homicide detective that inspires him to take down earthly criminals.
The premiere date for Season 5 has not been announced, but it will be the final season. "Lucifer" previously aired on Fox for its first three seasons, before Netflix debuted its fourth season in early May.
Whose coffee cup?
WHEN it comes to the now-infamous coffee cup that was accidentally left behind during one of the episodes in the final season of "Game of Thrones," actress Sophie Turner says former co-star Kit Harington is to blame. Turner made an appearance on "Conan" last week and admitted to host Conan O'Brien that Harington, who played Jon Snow, was to blame for the mistake. Previously, Turner pointed the finger at actress Emilia Clarke, who played Daenerys Targaryen on the hit HBO series.
"The coffee cup was where Kit's chair was. First I blamed it on Emilia, but I don't think Emilia would do that. Kit is lazy, and I think he would have done that. It was in front of Kit's chair and then obviously he moved, so this picture was taken and it looked like it was in my seat, but I wasn't there either. It was Kit. It was a 100 percent Kit."
(SD-Agencies)