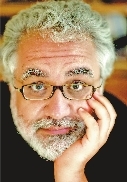 Ümit Ünal
asyadada@gmail.com
IN the science-fiction film "Looper," the dialogue between the gunman/time traveler Joe and his boss Abe is as follows:
Abe: You should go to China.
Joe: I'm going to France.
Abe: I come from the future, you should go to China.
I went to China. I hadn't gone abroad for almost six years. So it had to be a place where I didn't understand the language, where the food, faces, climate and fauna are totally different from what I knew. I went to Shenzhen.
Izmir Short Film Association is an active institution. Its director Yusuf Saygi and a group of filmmakers organized a "Focus on Turkey" section during Ninth China International New Media Short Film Festival. There was a Turkey stand in the festival center and talks and presentations on Turkish cinema, film making opportunities and film education in Turkey. Festival organizers also wanted to have a Turkish director in the competition jury and I came in the picture. On a rainy but very warm November evening we found ourselves in Shenzhen.
New, high, huge, bright
Shenzhen was a small fishing town to the north of Hong Kong. The city was started to be built in the late 1970s, very recent compared to the life span of cities. The city has been promoted as an alternative to Hong Kong, and today has turned into a huge "tech-hub," one of the most important centers of China in information, communication and finance fields. The official population is 12 million, but the actual number might exceed that. It is a brand new giant. There's not much old, historical stuff to see. Perhaps feeling the lack of this, they have built a park that reflects China's glorious past in the city center, and it is possible to see miniature versions of beautiful old China, including the Great Wall. Apart from this, everything is new, high, big and bright. LED-illuminated skyscrapers are rising through parks full of tropical trees.
The festival we participated in is also a very big organization. Dozens of short film directors from all over the world and other guests are hosted. The opening and closing nights were designed as magnificent TV shows, really impressive, even if it's a bit Eurovision-like. One can easily say that the opening nights were bigger and more professional than our Antalya or Adana film festivals' openings. I must confess I didn't expect such a big ceremony for a short film festival, and when I told this to Penny, our guide and translator, she said "Everything in China is huge."
Familiarities
When you go to a nearby country and trees and plants are still familiar, you do not fully understand that you are in a foreign place, but when the fauna changes you really realize you came to a far-away land. With its subtropical climate Shenzhen is very distant and foreign and on the other hand very familiar and close. Bus drivers who shout invitingly and try to snatch passengers in the bus garage are very familiar. The men who pop up out of nowhere to help the drivers who can not maneuver in a narrow street are very familiar. The general hospitality of people is familiar. The food is certainly not familiar, but the glittery photos of the weddings at luxury hotels are very familiar. People's shyness, semi-confusion in their faces when you ask something in the street is very familiar. There is no sight of any homeless, beggar, or drunk people in immaculately clean streets. But seeing many police and security guards around is familiar. The familiar faces of the poor people are the same where ever you go. Long, emotional speeches held in the ceremonies are familiar.
I did a masterclass at Shenzhen University. It was a surprise to see a big hall full of students while I expected only 10 sleepy people on a Sunday morning at 10 a.m. The keen interest of the students who came to listen to a director they didn't know and the questions they asked were amazing. I talked to a young woman who read Orhan Pamuk's books and liked "The Museum of Innocence."
When she said she didn't understand Pamuk's "My Name Is Red" I tried to explain the basic local issues of the book, but I was too ashamed to confess that I've never read a Chinese novel.
'Over the line'
The competition films were shown at a university hall. Films from all over the world dealt with a wide range of subjects, with very different styles. Half of the directors in the competition were women.
The American director Kathryn Everett's documentary "Girls Section" was about a special school for girls who are in school age but who cannot go to school in Pakistan. The film has affected us all and received two awards.
The wonderful animated film from Slovenia, Dusan Kastelic's "The Box," received the Best Animation Film Award. It was a short story about humanity imprisoned in a box and this movie was the most applauded film by the university students during the screening.
There was also a good Chinese film "Out of the Woods" directed by Hu Qihong. The American jury member Chris Edwards and I were very impressed with the cinematic narrative of this bold film, which depicted the love of two young women in a very subtle, symbolic language. We suggested it for the best drama award. But all Chinese members of the jury collectively chose the Russian film "Because of a Little Apple."
Internet users in China are exceeding 800 million. In most shops payments are made by scanning the barcode on the mobile phone. Maybe the future that was mentioned by Abe in "Looper" is already here. I don't know where we stand in that future, I don't know if we are familiar to them?