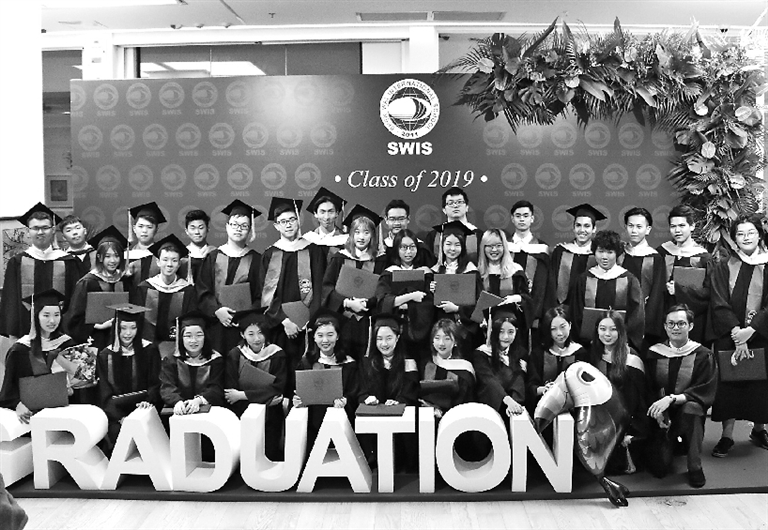 Liu Jieyu
warren1998@126.com
SHEN Wai International School (SWIS) held its first high school (diploma program) graduation ceremony in its auditorium yesterday with 32 students and hundreds of guests.
As chamber music was played by the lower grade students, the processional march started, and the graduating students took their seats on the stage at around 3 p.m.
The host, Tucker Barrow, then introduced the honorary guests from the Shenzhen Municipal Education Bureau and the SWIS board.
Speeches at the graduation ceremony were given by Guan Su from the education bureau, SWIS deputy director Daniel Legault, student representative Mandy Chen, guest speaker Michael Yang and SWIS director Ally Wu.
In Wu's speech, she showed great appreciation to all of the teachers, staff members and parents for supporting and loving the students. She also mentioned that SWIS had planted a podocarpus at the school's gate to remember the class of 2019.
"SWIS will always love you and welcome you," Wu said. "Cherish the past and look to the future as SWIS graduates, class of 2019."
Legault used symbolism to show the students how to proceed.
He said an experienced bicyclist would not hold a "death grip" on the handlebars so that he could save energy and react better when rolling down the hills. He wished all the students would grab the handlebars loosely to always have a positive mind and great faith when they face the downhills of their lives in the future.
After all of the speeches, the 32 graduates received their high school diplomas from SWIS. Many of them received merit awards for scoring a 33 or higher in the diploma program, and a couple of them received honors awards for scoring 36 or higher in the diploma program.
After the ceremony, Wu said during an interview that SWIS was the first school in Shenzhen to feature an International Baccalaureate Primary Years Program (IB PYP).
Wu said her goal for SWIS has always been to educate students with love and care, even in this score-based society.