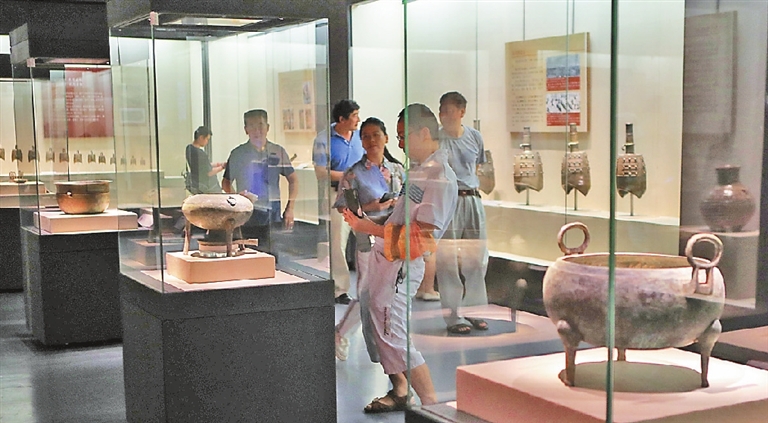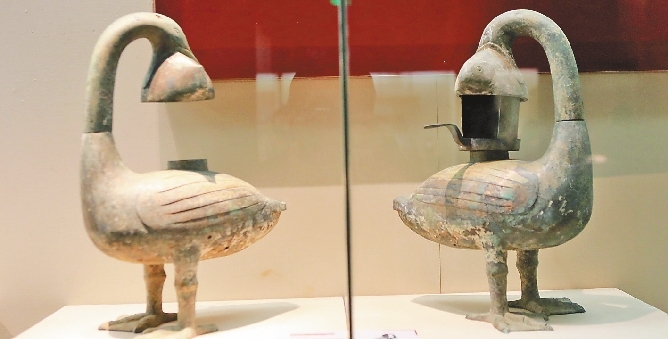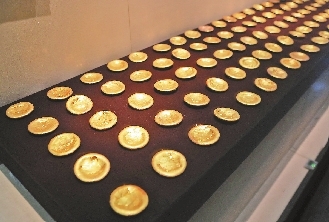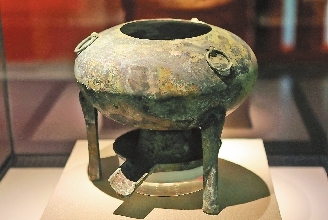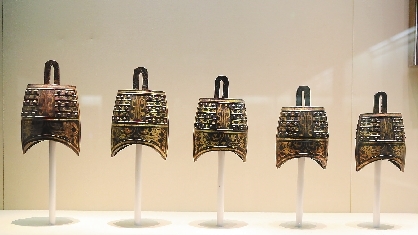 Cao Zhen
caozhen0806@126.com
THE arrival of the artifacts from the tomb of Marquis of Haihun (Haihunhou) in Jiangxi Province attracted tens of thousands of visitors to Shenzhen Museum last weekend, with long lines queuing from the museum entrance to the exhibition cabinets inside. Visitors were not only stunned by large quantities of gold objects and exquisite cultural relics, but also were curious about the events of the tomb owner's life 2,000 years ago.
The 510 pieces of relics exhibited here were unearthed from the grand imperial tomb excavated between 2011 and 2016. So far, more than 10,000 artifacts have been unearthed from it, including a large amount of gold, jade, lacquers, musical instruments, kitchenware, grains, bamboo slips, inscribed wooden tablets and tons of bronze coins. The whole tomb is still under excavation.
After a five-year study, experts have declared it the best-preserved imperial tomb of the Han Dynasty (202 B.C.-220 A.D.) ever discovered in China. Covering 46,000 square meters and consisting of nine tombs, a carriage and horse burial site, roads and drainage systems, the whole tomb has the most complete structure and the clearest layout.
Historians believe that the tomb is of great value to the study of Han Dynasty history. From a whole set of bronze chime bells to a hotpot-like vessel for warming food, fine-designed horse face accessories to various carriage gadgets, and delicate lamps and incense burners to marvelous objects for pressing mats, the abundant relics showcase the complete ritual system, the craftsmanship, the artistic development, the political system and aristocrats' luxurious lifestyle in the glorious Han Dynasty.
In 2016, archaeologists announced that the main tomb is that of Liu He (92-59 B.C.), a short-lived emperor-turned-marquis, after finding a tiny jade seal inscribed with characters "Liu He" in his coffin. The remains of Liu, buried with jade, gold and glaze inside the coffin, have decomposed, and only a handful of teeth were found. The seal is very significant to the identification of the tomb owner and it is now on display in Shenzhen.
Liu was a grandson of Emperor Wu, a great ruler of the dynasty. As a 6-year-old boy, Liu inherited the title of King of Changyi (an enfeoffed kingdom in today's Shandong Province) after his father died. Historians believe that since Liu was not mature and didn't have much political experience, when he was 18, he was established by the powerful commander-in-chief Huo Guang as emperor, after Liu's uncle Emperor Zhao died without heir. Before that, Huo married his granddaughter Shangguan to Emperor Zhao in order to control the imperial court.
According to Han Dynasty historian Ban Gu's "Book of Han," after Liu ascended to the throne in the capital Chang'an (today's Xi'an), he lived a lavish and licentious life and promoted his followers from Changyi to take key positions. After just 27 days, Huo united Shangguan to depose Liu with charges of misbehavior and established Liu's nephew as Emperor Xuan.
Liu returned to his old palace in Changyi, deprived of titles and under close watch by Emperor Xuan's officials for 11 years. Knowing that Liu was not a threat anymore, the emperor bestowed Liu the title of marquis and exiled him to Haihun, a small and remote kingdom in today's Jiangxi Province.
"Book of Han" wrote that after Liu became the marquis at age 29, he was not allowed to contribute gold to the emperor every year because the emperor wanted him to stay away from the capital. Archaeologists said that a large number of gold objects inscribed with characters found in Liu's tomb prove that Liu had attempted to contribute the gold to the emperor but was rejected. The gold that couldn't be sent out, together with other gold objects inherited from Liu's father, finally were buried with Liu, explaining why there were 115-kilogram gold in his tomb, the largest in China's Han tomb archaeological history.
Ancient books on Confucian classics and medicine and imperial documents made up of thousands of bamboo slips and wood tablets, as well as a mirror containing the earliest known image of Confucius, have also been found in the tomb, but are not on display in Shenzhen.
Historians said a Confucius quote on maintaining a low profile in adversity on the mirror shows that Liu understood his situation in Haihun and tried to be discreet. But after he made a slip of the tongue to an official, saying that he should have killed commander-in-chief Huo when he was deposed, Emperor Xuan soon punished him by slashing his fief holdings.
"Book of Han" didn't disclose the reason for Liu's sudden death at age 33. Archaeologists found honeydew melon seeds in his coffin, suspecting that he might have died of an acute stomach and intestinal disease after eating the melon seeds.
The exhibition is free to visit.
Dates: Until July 28
Hours: 10 a.m.-6 p.m., closed Mondays
Venue: Shenzhen Museum, Block A, Civic Center, Futian District (福田区市民中心A区深圳博物馆)
Metro: Line 2 or 4 to Civic Center Station (市民中心站), Exit B