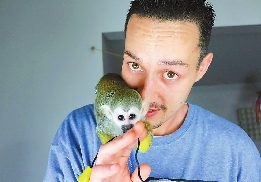 THIS cheeky squirrel monkey is more than just a pet for this retired combat veteran, helping with anxiety and elements of PTSD.
Luke went to a monkey sanctuary with a friend nine months ago and met a distressed baby oLLie and learned that he needed extra care, which is where Luke stepped in to integrate him into his family.
From that point, Luke has been able to raise oLLie and care for him and his frantic character.
Luke and oLLie have their own YouTube channel that feature videos of day-to-day life, learning experiences for oLLie and incredibly cute clips.
Luke said: "I went with a friend to a monkey sanctuary and the situation arose where oLLie was in a bit of distress and needed a little bit of extra care and I was kind of in the right place at the right time.
"Having oLLie was worrisome at first, I didn't know much about a baby troubled primate.
"But as time went on and I was introducing the new experiences we kind of clicked.
"Since starting the YouTube channel, lots of sick, terminally ill and just people in a bad place have messaged me and he's made them smile and change some outlook on life.
"It's just pretty amazing, I call it our secret superpower."
Luke has been diagnosed with combat PTSD, chronic pain syndrome and insomnia since retiring from the military but having oLLie makes it easier for him to deal with these conditions.
Serving in the 227th Infantry, known as The Wolfhounds, Luke suffered injuries after stepping on a daisy chain I.E.D. (Improvised Explosive Device) in Iraq in August 2009.
Shrapnel hit Luke, lodging in his skull, removing some of his teeth, hitting his fingers and shattering his hips in the process.
Since suffering his injuries, Luke admits that he became a recluse and socialized less until he was paired with oLLie.
The care and attention that oLLie needs have been integral for Luke coping with his conditions.
Squirrel monkeys require around the clock care which suits Luke's insomnia and the socializing that squirrel monkeys crave has brought the best out of Luke.
(SD-Agencies)