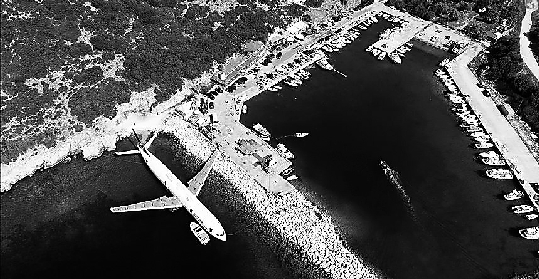 A PASSENGER plane Friday was lowered into the sea in northwestern Turkey to boost scuba-diving tourism.
The Airbus A330 passenger plane was scuttled a mile (1.609 kilometers) away off the Ibrice Port in Edirne province at a ceremony, which was attended by Ali Uysal, deputy governor.
Uysal said during the event that the Gulf of Saros in the northern Aegean Sea is of great importance in terms of tourism.
"[…] Scuba-diving tourism has a different market segment than mass tourism," Uysal said, noting that an ordinary tourist generates income as less as US$500-US$600, while a tourist coming for scuba diving generates US$2,000-US$3,000.
"For this reason, I think that the scuttled plane and artificial reef are very important," Uysal added.
The aircraft is placed some 30 meters below the sea surface.
The airplane — which made its first flight in 1995 and retired last year — was brought to Kesan district of Edirne from Mediterranean resort city of Antalya in March.
Various objects and figures representing Canakkale War were also sunk in the gulf as part of the artificial reef project.
Fatih Erdem, director of the Trans Anatolian Natural Gas Pipeline Project (TANAP), said the project — which they have been supporting since beginning — will contribute to both tourism and aquatic life.
(SD-Agencies)
Mr Kader, who has kept the discovery under wraps for six months while authenticating the find, said: "We can safely say that a million pounds will transform the seller's life."
He added: "There are still four out there somewhere. It might take another 150 years for another one to pop up."
The object will go on display in Edinburgh on Tuesday and in London just before the auction on July 2, with Mr Kader saying it could be bought by, or be loaned to, a museum.
(SD-Agencies)
(SD-Agencies)