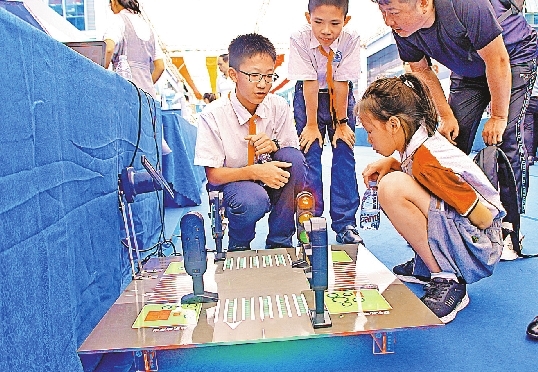 OVER 20 themed activities have been launched at 10 venues in Bao'an District during the 2019 National Mass Innovation and Entrepreneurship Week Shenzhen Venue and the fifth Shenzhen International Maker Week, which kicked off Friday and runs through today.
A launch ceremony was held at Fuhai Technology Park on Friday morning.
The ceremony, organized by Bao'an District Government and co-hosted by Bao'an District Science, Technology and Innovation Bureau, the district's education bureau and other subdistrict offices, attracted more than 300 attendees, including maker representatives, principals from primary and secondary schools in the district, media outlets and residents.
The main venue in Fuhai Technology Park and nine other subvenues across the district showcase the district's excellent innovative and entrepreneurial environment. It is also reported that the government places great value on the district's entrepreneurship and has provided a series of financial services, such as loan grants, to support entrepreneurs.
Gao Zhiyuan, deputy head of Bao'an District Government, attended the event and delivered a speech at the launch ceremony. In his speech, Gao said that mass entrepreneurship and innovation is crucial to stimulating creativity in all walks of life and supporting quality growth in economic development.
The ceremony also featured a forum on innovation and education in the Guangdong-Hong Kong-Macao Greater Bay Area and invited renowned experts from the education sector to participate in discussions with attendees.
At the main venue, three exhibition areas that showcased smart technology, innovation projects and the technological inventions of teenagers also drew large crowds. (Liu Wenjin)