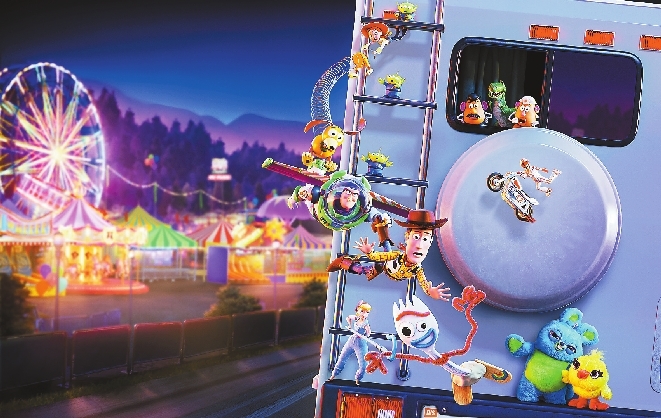 It's been nearly a decade since "Toy Story 3" put a satisfying end to what seemed likely to remain a trilogy, but here we see another worthy sequel.
With their former charge Andy having left for college and their new one, Bonnie (voiced by Madeleine McGraw), about to start kindergarten, Woody (voiced by Tom Hanks) and Buzz Lightyear (voiced by Tim Allen) are lying around the house without much to do.
At her school orientation day, little Bonnie publicly embraces as her new best friend and companion a plastic spork* (voiced by Tony Hale), one with lopsided* eyes, a waxy mouth and pipe-cleaner arms. In other words, it's a piece of trash and, better yet, it knows it; "I'm a fork!," it insists, adding that it doesn't even understand what a toy is.
"You're a toy now, Forky," it's told in no uncertain terms, and no one tries to eat with its help thereafter.
Before school proper begins, however, Bonnie (with Forky and Woody in tow) is taken by her parents on a road trip to an old Western town called Grand Basin, where a big carnival is under way. There's also a large secondhand store stuffed with yesteryear items, including a talking string-pull doll named Gabby Gabby (voiced by Christina Hendricks) and four creepy Howdy Doody look-alikes*.
A character so secondary in the first two "Toy Story" films that she was cut from part three, a young lady (and former adornment* to a lamp base) named Bo Peep (voice by Annie Potts) has been fleshed out and made so self-confident that she now emerges as a major figure. The immensely capable shepherdess makes a perfect match for Woody. Their lively banter* and mutual understanding provide a romantic backbone for the story.
This would not be a Pixar film without innumerable mad dashes, close calls*, frantic snatches of victory from the jaws of defeat and other wild physical predicaments* that call on the ingenuity* and dexterity of its characters. The film certainly delivers them up.
As Woody, Hanks still sounds as youthful and energetic as he did a quarter century ago. Potts returns as Bo Peep, who may share an intimate past with showoff Duke Caboom ("Canada's Greatest Stuntman"), whom Keanu Reeves helps turn into an egotistical hoot*; even he, however, has a poignant* backstory.
It's a tale of second chances and characters who take advantage of them. Like its predecessors, the film is noisy, happy, unpretentious, action-packed and old-fashioned in a very good way.(SD-Agencies)