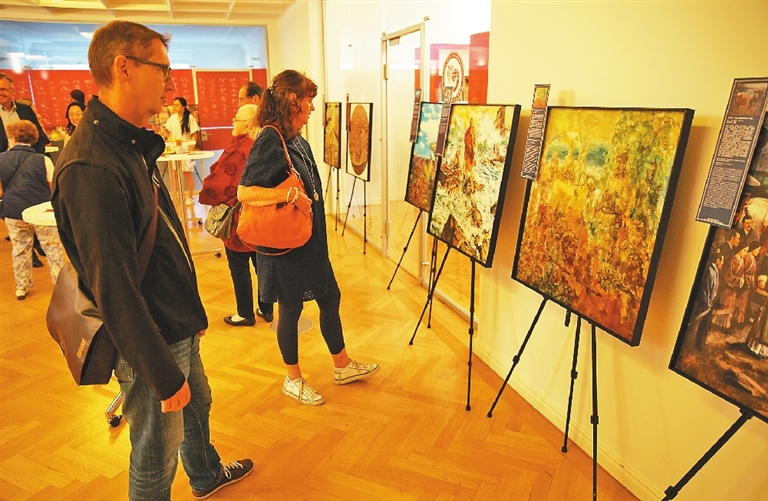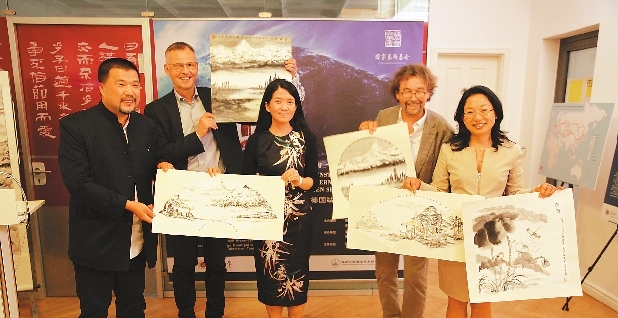 AN exhibition celebrating China's rich maritime history, titled "Two Millenniums of the Maritime Silk Road," kicked off recently in Nuremberg, Germany, the last stop of its tour in Europe after Cyprus, Brussels and The Hague.
Invited by the Confucius Institution at Erlangen in Nuremberg, the exhibition was displayed at an old German-style building inside the institution, forming a delightful contrast with Chinese artworks.
Based on documents related to Chinese maritime history, the showcase presented a magnificent scroll depicting historic maritime exchanges and people from ancient Chinese dynasties as far back as 2,000 years ago to modern times.
As a promotional project by the China National Arts Fund, the exhibition was presented by the maritime art research center of Shenzhen University, which is said to be the only institute in China conducting research on both Chinese and foreign maritime history, drawings, maps and ancient boats.
On behalf of the town hall of Nuremberg, director with the international relations department of Nuremberg Dr. Schuergers, said at the opening ceremony that Nuremberg has established a deep friendship with China and 22 years have passed since Nuremberg became a sister city with Shenzhen.
"The showcase enables residents in Nuremberg to have a deeper understanding of China's Maritime Silk Road and its development, which will also contribute to international cooperation under the Belt and Road Initiative in the future," said Schuergers.
Dirk von Vopelius, chairman of the China-Franken Federation of Industry and Commerce, said that he was impressed by Shenzhen's development over the past few decades and praised the city's focus on cultural causes along with economic development.
"These art pieces also increase comprehension of China's Belt and Road Initiative, which will bring in more opportunities under the framework," said Vopelius.
Xu Yan, president of the Confucius Institution at Erlangen in Nuremberg, claimed that the exhibition is a significant project to the introduction of China's maritime history to foreign audiences.
"The institution will continue to promote international exchanges in the maritime cultural field and to bring more exhibitions on Chinese maritime culture to reinforce understanding between the two countries," added Xu.
Zhang Yanxin, director with the Ocean Art Research Center of Shenzhen University, claimed that he hopes this event will act as a bridge that connects the two countries in academic research on maritime culture, as well as a medium to promote exchanges in this regard.
(Wang Jingli)