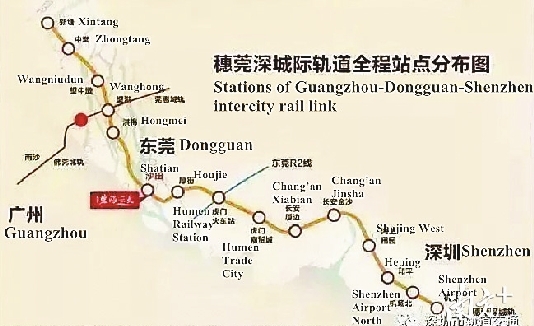 THE Guangzhou-Dongguan-Shenzhen intercity rail link is scheduled to open Sept. 30.
According to a report on sznews.com yesterday quoting the project contractor, China Railway Urban Construction Group, the entire line has entered the inspection and acceptance phase, and comprehensive tests will be initiated July 5.
The railway runs between Shenzhen International Airport and Xintang in Guangzhou, where it connects with a through-service via Guangzhou-Shenzhen Railway traveling to and from Guangzhou East Station.
The line has 15 stations, 10 above ground. It will operate at a speed of between 140 and 160 kilometers per hour, with a passenger capacity of 1,200.
When it is put into operation, the train departure interval will be 2.5 minutes and the travel time from Zengcheng in Guangzhou to the Shenzhen airport will be cut to 40 minutes.
The Shenzhen section runs 17 kilometers with four stations, namely Shajing West, Fuhai West (Heping), Shenzhen Airport North and Shenzhen Airport.
The Shajing West station, located at the intersection of Xinsha Road and Songfu Boulevard, has had its interior decoration completed with facilities, elevators, escalators, air conditioning, ticket dispensers and turnstiles installed, and is ready for use.
"The station covers over 3,200 square meters and is ready for inspection and acceptance. It will soon undergo a test," Xi Gangxiao, project manager at the station, said in an interview. Decoration and mechanical and electrical installation have also been completed in the other stations on the Shenzhen section.
In the future, the railway will be extended to Qianhai in Shenzhen, and connect to both Guangzhou East Railway Station and Guangzhou's Baiyun International Airport.
Work on the 15-billion-yuan (US$2.2-billion) rail link started in 2017.(Han Ximin)