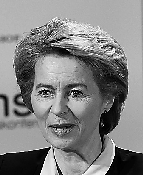 URSULA VON DER LEYEN, German Chancellor Angela Merkel's defense minister and fellow conservative party member, was nominated by European Union leaders to become the bloc's next chief executive after a brutal final round of weeks of horsetrading.
The Council will also propose IMF chief Christine Lagarde to head the European Central Bank and Charles Michel as president of the European Council. Spain's Josep Borrell Fontelles will be foreign policy chief.
Lagarde said in a tweet that she would "temporarily relinquish her responsibilities as IMF Managing Director during the nomination process."
Merkel, whose initial plans had suffered a setback Sunday, came out with a German at the helm of the union. She abstained from voting in the 28-member council, after many of the German Social Democrats, her junior coalition partner, opposed the deal.
Von der Leyen's name emerged as a compromise after a Merkel-backed plan that would have given the job to the Socialists was rejected by her own center-right allies.
It would be the first time a German holds the top EU job since Walter Hallstein was head of the Commission of the European Economic Community more than half a century ago. Her challenge will be to navigate a world of bruising trade wars, renewed geopolitical tension surrounding Iran, as well as calls for increased transparency and representation within the bloc itself.
A deputy leader of Merkel's Christian Democratic party, von der Leyen must still be ratified by an absolute majority in the European Parliament to become commission president.
Von der Leyen's nomination still faces a serious hurdle in parliament because leading members of its Socialist group, the No. 2 faction in the 28-nation assembly, are opposed. While the broader Socialist group is split, an indication of how the faction will eventually vote on von der Leyen's nomination may come the next day, when the assembly is due to elect its own president.
The post is supposed to go to a Socialist under the summit deal, but the group's members are weighing support for a Green member of the assembly named Ska Keller. The Greens, the EU Parliament's fourth-largest group, have said they oppose the summit package. (SD-Agencies)