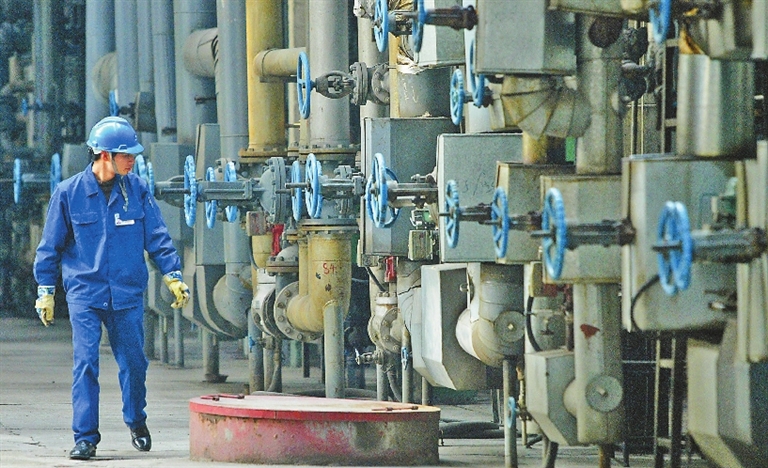 FUEL producers in China are making extended curbs to their output in the third quarter after supply from mammoth new refineries stoked an already-sizeable glut, potentially dragging on crude oil demand from the world's biggest importer of the commodity.
Private refiner Hengli Petrochemical ramped up its 400,000 barrels per day (bpd) plant in northeast China to full capacity in May, while Zhejiang Petrochemical began trial runs around the same time at a similar-sized refinery on the east coast.
That drop should sap their appetite for crude imports, pulling down on international oil prices that have already been hit by fears over a slowing global economy.
The swollen surplus of fuel products could also send China's fuel exports surging to new highs and further pinch Asian refining profits.
Small-scale refiners known as "teapots," mainly located in Shandong Province, are coming under the most pressure to make fresh output cuts, analysts said, extending curbs many of them made in May and June.
Teapots have been seen as a bellwether for China's oil demand since 2015 when they became first-time crude oil importers. They now make up a fifth of the nation's total crude imports.
Dongming Petrochemical Group, the province's largest independent refinery, is closing its 240,000-bpd plant this week for two months of maintenance in the wake of "poor margins," according to a company source.
That comes after plants were losing 300-350 yuan (US$44-US$51) on each ton of crude oil they processed in June, their largest such loss in nearly four years, said Shi Linlin, an analyst at consultancy JLC, and analyst Wang Zhao at Sublime China Information.
Seven plants in Shandong — including Dongming — with total crude processing capacity of 470,000 bpd will be offline in July for overhauls, JLC estimates. That's equivalent to a throughput cut of 14 million barrels of crude in July alone, or nearly 4 percent of the country's processing levels in May.
Meanwhile, two major coastal plants run by Sinopec Corp., Asia's largest refiner, are planning to trim throughput by nearly 2 percent, or roughly 10,400 barrels per day, in the July-September period from the second quarter, plant sources said.
That comes after these two plants were hit by refining losses in June for the first time this year. (SD-Agencies)