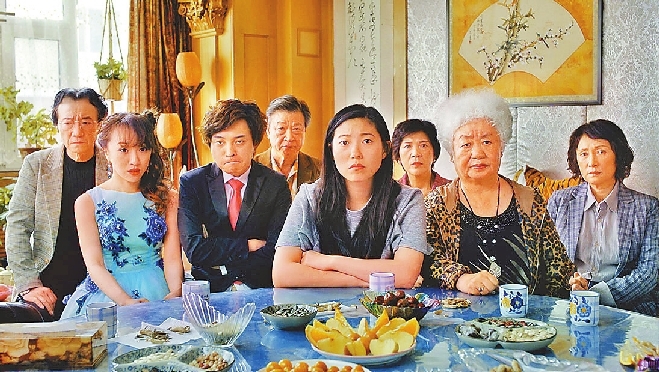 《别告诉她》
Lulu Wang's second feature film is a semi-autobiographical comedy-drama.
In the opening scene, aspiring writer Billi (Awkwafina) walks in her neighborhood in Bushwick, Brooklyn, talking on her phone to her beloved grandmother (Zhao Shuzen), or Nai Nai in Mandarin, back in Changchun, China. Billi left there at 6 when her parents — unemotional mother Jian (Diana Lin) and kind father Haiyan (Tzi Ma) — moved to New York.
During that phone chat, the elderly woman is preparing to have a CT scan. When her doting younger sister, known as Little Nai Nai (Lu Hong), receives the diagnosis of stage 4 lung cancer, with medics delivering a prognosis* of three months or less, she shares the bad news with everyone in the immediate family except Nai Nai.
The movie switches back and forth between New York and China, English and Mandarin, as Billi reacts with dismay* to her parents' determination to go along with the deception*.
That sharp difference of opinion will play out over the course of the story, showing the contrasting cultural attitudes toward the value of truth and the cost of its emotional burdens. Also backing up the lie is the family of Haiyan's older brother Haibin (Jiang Yongbo), who settled in Japan.
Everyone is reunited back in Nai Nai's apartment in Changchun for the first time in 25 years, using the pretext of a suddenly announced marriage between Haibin's son Hao Hao (Chen Han) and his Japanese girlfriend of just three months, Aiko (Aoi Mizuhara). That couple become the object of much good-natured humor, with gormless Hao Hao seeming far from convinced about the big step of matrimony*. The actual wedding is the extended comic centerpiece of the film.
While the movie is dotted with memorably funny-sad interludes*, it reaches an affecting apex* in a scene where Billi pours out her bottled-up feelings to her mother during the wedding preparations. Her father to some extent has come around to her Westernized way of thinking, but she is mostly alone in her firm belief that it's wrong to let Nai Nai continue thinking her cough and shortness of breath are just the after-effects of a cold. Billi's sadness, and her sudden immersion into a much larger extended family as opposed to her micro-unit of three back in New York, trigger moving insights into the sense of cultural dislocation* felt by many immigrants, even a generation later.(SD-Agencies)