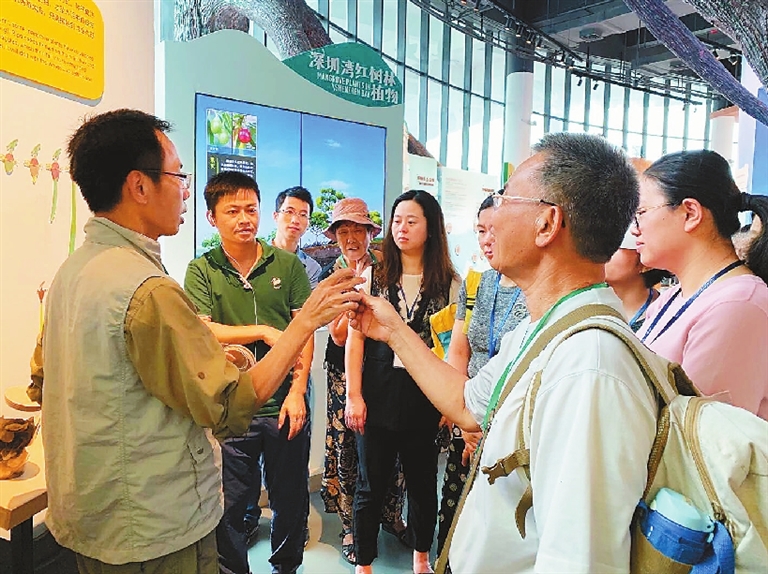 Michelle Wang
wy_szdaily@126.com
A SCIENCE education center dedicated to the popularization of knowledge about mangroves, birds and ecological conservation opened to the public Thursday in Futian District.
The Futian Mangrove Ecological Park Education Center focuses on such areas as wetlands and mangroves, birds of Shenzhen Bay and their migration, and the ecological park's history. The fun parts include the six sections established for interactions with visitors.
Upon entering the education center, visitors are greeted by a huge wall with a bird's-eye view of Shenzhen Bay. Here they can imagine themselves as a bird flying over Shenzhen Bay to appreciate its beautiful coastline and vast expanse of lush mangrove trees.
Mangrove trees, an important species that makes enormous contributions to the world by maintaining biodiversity, pollution treatment and coastline protection as well as mitigating climate change, are a main subject at the education center.
In this section, visitors can learn why mangroves, meaning "red trees" in Chinese, are green, and mangrove forests grow where the land meets the sea, as well as about the mangrove distribution in Shenzhen and the wetland ecological system. There are also questions about mangrove forests on small signboards with the answers on the other side for visitors' reference.
For bird lovers, the section on bird species and their migration should not be missed. The content is presented with eye-catching graphics, high technology and animation, making the visit a fun experience. Some life-like bird models there were crafted by hand. Raising their heads, visitors can see the ceiling is decorated with white flying birds and green tree leaves, which is a pleasure to the eyes.
The center is also equipped with a real-time bird-watching screen to allow visitors to keep track of the birds in the ecological park, which boasts more than 100 species of birds.
In the oral history section, visitors can listen to the elders of Shazui Village as they tell their histories and view the tools they used in their daily lives, such as conch basket, conch rake and sea catfish net.
What's more, all of the signs in the education center are bilingual, providing information in both Chinese and English, which can be a boon for the expats in the city.
Although it is small in terms of floor space, the education center does offer a lot to enrich people's understanding of nature and ecological conservation.
Currently, the education center is open from Wednesdays to Sundays and closed Mondays and Tuesdays. Individuals can register on the spot to visit Wednesdays, Thursdays and Saturdays, while groups have to make a reservation to visit Fridays and Sundays by scanning the QR code provided by the park. Each interpretation tour is limited to 15 people.