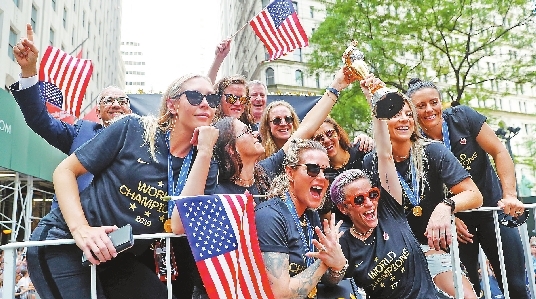 THE U.S. women's national soccer team celebrated its Women's World Cup victory on both coasts Wednesday, honored with a ticker-tape parade in New York City before jetting to the West Coast and collecting trophies at The ESPYS in the evening.
Alex Morgan won female athlete of the year and shared the best team award with her soccer mates.
"Sorry, but this is probably the second-best trophy we won this week," Morgan said.
As she got up from the front row, Megan Rapinoe's black tuxedo jacket opened and exposed her left breast, which was caught by cameras showing the in-house feed of the show. An ABC spokesperson said the show would be further edited for the Mountain and Western time zones.
"I've dropped the F-bomb on every stage the last four days, so we'll just spare you that," Rapinoe told the audience.
Giannis Antetokounmpo of the Milwaukee Bucks won male athlete of the year at the show honoring the past year's top athletes and moments in sports.
"This is all about hard work. When you believe in your dreams this can happen," Antetokounmpo said.
Comedian Tracy Morgan presided over the show at Microsoft Theater in downtown Los Angeles.
Alex Morgan thanked ESPN for its recent deal to carry women's games.
"When the World Cup is behind us, it is the professional league that we need to continually lift up and grow," she said. "Investment in women and girls should not only occur on the playing fields but in more storytelling of badass, amazing women who continue to show that we are more than just athletes."
Sandra Bullock announced the best team award, saying, "All those in favor of equal pay say aye." "Keep fighting for equality," Billie Jean King told the team from the stage earlier in the show.
"It's going to be in history forever," New Orleans Pelicans player Lonzo Ball said on the red carpet. "I don't even watch soccer and I watched it. That means a lot."(SD-Agencies)