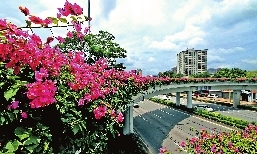 FIVE projects for the development of Bao'an into a global flower district were recently awarded as Shenzhen's excellent environment improvement projects, according to the Bao'an Daily.
These five projects include the flower project at the entrance and exit areas of the Shenzhen International Airport Terminal 3, a hanging flower project on overpasses and pedestrian bridges across Bao'an, a project at the Yifang center in Xin'an Subdistrict, the Yanchuan wetland park project and a street park project along Lida Road.
There were only two projects in Bao'an selected as excellent projects last year, according to the report.
Bao'an District will launch a total of 38 "flower city" projects this year, including six in parks, two involving road greening, 10 on street blocks, 20 in street parks and one vertical greening covering 20,000 square meters.
As of the end of July, the vertical greening project had been finished along with another eight projects. Five are still under construction.
The district's urban administration and law enforcement bureau will construct four flower fields, so that citizens can enjoy flowers year around. Ten subdistricts have each built one flower-themed field. The construction of these flower fields has basically been completed, covering an area of 256,000 square meters, according to the report.  (Chen Qingxuan)