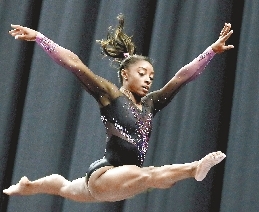 SIMONE BILES brought a double-double and a triple-double to the U.S. Gymnastics Championships, winning her sixth national all-around title in a runaway.
Biles hit a skill that no woman has ever done, for a second straight night of competition — this time a triple twisting double somersault on floor exercise — en route to winning by a hefty 4.95 points over Sunisa Lee.
Biles tied Clara Schroth Lomady's record six U.S. women's titles. Biles didn't dominate like she did last year, when she won all five gold medals after taking 2017 off from competition. She only won four of the five.
But she increased her already unmatched difficulty with that floor tumbling pass (the triple-double) and a double twisting double somersault dismount off the balance beam (the double-double) that she threw Friday.
The difficulty has been the difference in Biles' second Olympic cycle. From 2013-16, her largest gap in difficulty over an Olympic or world championships field was nine 10ths of a point.
Last year, it was 2.7 points at worlds, where Biles won despite two falls and a kidney stone.
(SD-Agencies)