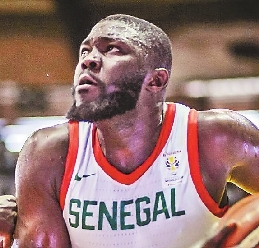 THE Senegal Basketball Federation (FSB) on Aug. 16 announced their final 12-man roster for the upcoming FIBA Basketball World Cup set to take place from Aug. 31 to Sept. 15 in China.
Five players are returning from the squad that took part at the 2014 edition in Spain including Hamady Ndiaye, Mouhammad Faye, Maurice Ndour, Djibril Thiam and Xane Dalmeida.
Among the dependable debutants is Youssoupha Ndoye who played a key role in guiding Senegal through a tough qualification route that saw them playing three windows before they could lock down a spot at the prestigious World Cup.
Averaging 12.3 points, 6.4 rebounds and 1.3 assists, Ndoye will be looking to replicate his performance in the African qualifiers at the world stage.
The other debutants include Momar Ndoye, Lamine Sambe, Mactar Gueye, Ibrahima Fall Faye, Moustapha Diop and Babacar Toure.
Senegal is fresh from playing four friendly games in Europe, registering one win over Venezuela 75-69 in Verona, Italy, but lost to the hosts 111-54 and Russia 73-56 before heading to Istanbul to face Turkey, which defeated the side 94-59. This is a worrying record for the newly installed head coach Moustapha Gaye.
Ndiaye has been named captain of the side with his leadership expected to create a spark in the squad that started their preparations very late and have ground to make up ahead of the 32-team showpiece event set to start in two weeks' time.
Senegal is in a very tough Group H along with Lithuania, Canada and Australia but according to Gaye, their target is to do their very best and to try and better their performance at the last World Cup where they finished 16th.
With an expanded World Cup, it will not be an easy task as they will need to win at least a game in their group to stand a chance of attaining their objective.
(FIBA)