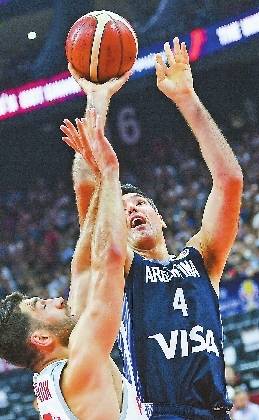 ARGENTINA extended its FIBA Basketball World Cup 2019 unbeaten run thanks to a comprehensive 91-65 win against Poland in Foshan on Sunday.
It was the Argentine players' fifth win in as many games as they switch their base to Shanghai where they will take on Serbia.
Luis Scola powered the Argentine offense with a game-high 21 points, Nicolas Brussino added 10 to his account, Facundo Campazzo ran the show with a game-best six assists and Marcos Delia contributed 12 points.
Meanwhile, Mateusz Ponitka, who led Poland with team-high 16.5 points and 6.8 rebounds prior to Sunday's game, finished with four points while A.J. Slaughter came up with a 16-point performance and Karol Gruszecki added 11 points.
Poland managed a short-lived 5-4 lead thanks to a Mateusz Ponitika three-pointer, but Argentina regained the lead soon after to close the half with a commanding 42-27 lead. The South Americans went on to lead by as many as 31 points.
Scola, 39, ran the floor as if he were 15 years younger. He finished with his second-highest scoring performance in China of 21 points, six rebounds and three assists. Scola did a bit of everything for Argentina, and it came as no surprise that he was acknowledged with the Player of the Game award.
Bench rotation proved to be a key factor, and Argentina made the most of their deep scoring options coming off the bench. By halftime, Argentina's bench had outscored Poland's 30-10. While the difference decreased to 32-31 at the end of the regulation, the damage was already done. Poland's 23 turnovers also proved really costly.(FIBA)