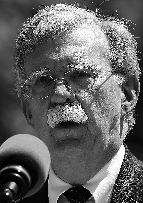 U.S. President Donald Trump has fired his national security adviser, John Bolton, in a pair of tweets in which he laid bare searing internal divisions within his inner circle, saying he had "disagreed strongly" with his top aide.
The departure of such a resolute hawk raises the possibility that Trump's foreign policy could now make a dovish turn in the run up to next year's elections, in particular with respect to Iran.
The president's firing of his third national security adviser in as many years appears to have caught even the White House by surprise. The explosive tweets were posted barely an hour after it was announced that Bolton would be appearing at a press conference alongside the secretaries of state and treasury.
Bolton himself added to the confusion, commenting minutes after his public dismissal that he had offered to resign Monday night but that Trump had replied: "Let's talk about it tomorrow."
Bolton continued to press his case that he had resigned rather than being fired. He sent out a battery of texts including to Fox News presenters on air as well as the Washington Post, protesting: "I resigned, having offered to do so last night."
The sacking-cum-resignation of Bolton, an ultra-hawk on foreign policy who under George Bush was a key architect of the invasion of Iraq in 2003, brings to a head mounting tensions within Trump's top team of national security and foreign policy strategists.
According to the New York Times, Bolton had refused to appear on television talk shows Aug. 25 after the G7 summit in Biarritz so he did not have to defend the president's views on Russia.
The two men agreed on some issues, like scrapping multilateral agreements such as the 2015 nuclear deal with Iran and tearing up the Intermediate-Range Nuclear Forces Treaty with Russia.
But Trump's maverick approach to dealing with tough men and adversaries, in which he has emphasized a willingness to deal directly with America's traditional enemies, such as Vladimir Putin in Russia, Kim Jong-un in North Korea — and most recently the Taliban in Afghanistan — was increasingly at odds with Bolton's hardline belief. Bolton was also reported to have a testy relationship with the U.S. secretary of state, Mike Pompeo. The two officials are said to have been at loggerheads for months to the extent that in recent days they were not speaking other than at official engagements. (SD-Agencies)