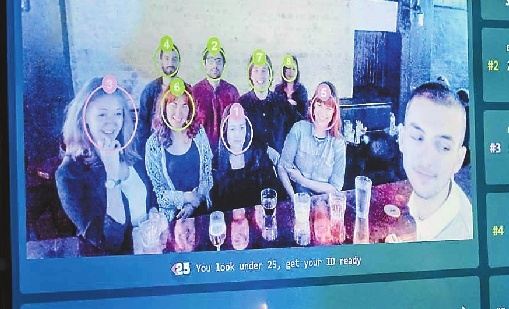 A bar in central London has become the first in the world to install AI-powered facial recognition technology to help bartenders see who's next in the queue.
Developed by British AI firm DataSparQ, the system identifies people waiting at the bar, displays their place in the queue and shows their estimated wait time. DataSparQ announced it had developed the AI Bar technology in July and this is its first installation. "There's a big screen behind the bar and the webcam captures footage of everyone coming to queue," explains DataSparQ managing director John Wyllie. "Those who've been waiting first get a number above your head to say you're No. 1 in the queue. Those who've been waiting least time are at the back of the queue."
The aim is to eliminate queue jumping and make ordering drinks faster and fairer. "There are a lot of people who are too shy or just don't catch the attention of the bartender's eye, for them it just brings some extra fairness," said Wyllie.
The AI system also assists ID checks, by suggesting if a customer looks under 25-years-old. Future planned features include a FaceTab, where a customer's features are stored so they can rack up a bill without needing to hand over their credit card.
Sammy Forway, owner of The Underdog, near London Bridge, hopes the tech will help bar staff be more efficient. The data generated, including orders per-hour and average wait time, can also help the bar improve its service. "Although our team is trained well, if they're turning round and serving, it's difficult for them to see exactly who's next," said Forway.
The inventors have implemented measures to reduce the fears of privacy advocates, saying all data is wiped after closing time.
(SD-Agencies)