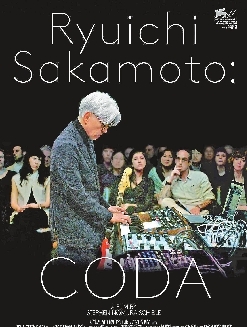 FANS of the highly respected Japanese musician (and occasional actor) Ryuichi Sakamoto will enjoy documentary "Ryuichi Sakamoto: Coda," in Chinese mainland cinemas under the National Alliance of Arthouse Cinemas starting Dec. 16.
A leisurely look at a multi-talent best known for composing memorable original scores for movies like "The Last Emperor," "Merry Christmas, Mr. Lawrence" and "The Revenant," the 2017 documentary charts the career of the musician and anti-nuclear campaigner. Stephen Nomura Schible shot the documentary over a five-year span, during which Sakamoto survived a serious cancer scare. But whatever he had feared, and prepared himself for, this cancer is now in remission and so far it has not come back.
As a young man in the 1980s, Sakamoto looked like a new romantic pop star; now he is an elegant grey-haired gentleman, who could be a celebrated designer or award-winning architect. He is very interesting on Tarkovsky's use of Bach chorales in his 1972 sci-fi classic "Solaris" and is shown thoughtfully working on some chorale-type compositions of his own.
He is also ceaselessly interested in the possibilities of electronic music and his career continues unabated to the present day.
China's National Alliance of Arthouse Cinemas is an initiative run by the government-supported China Film Archive and a consortium of commercial theater chains. The alliance was formed in 2016 as an effort to cultivate art cinema in China by reserving screens for prestige titles within the country's scores of multiplexes. The alliance now extends to some 1,200 movie screens — out of China's 50,000-plus screens total.
According to the alliance's official WeChat account, there are more than 30 cinemas in Shenzhen under the alliance, including the Broadway Cinema in Coco Park, UA Cinema in KK Mall, CGV Cinema in Uniwalk and Lumiere Pavilions in Shekou.
(SD-Agencies)