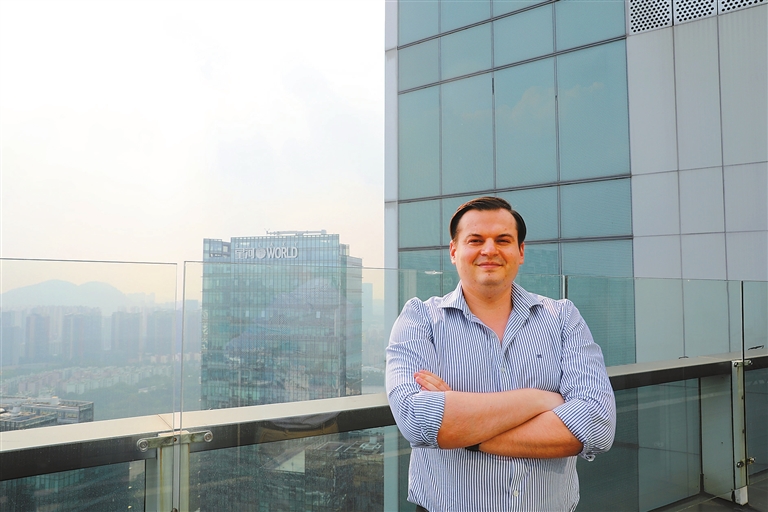 Chang Zhipeng
57589527@qq.com
"HAVING been here in China for eight years, my biggest ambition is to make a better link between China and Ukraine to encourage collaboration for a better future while appreciating people's differences and recognize individuality." That is what Igor Diadyk, a 32-year-old Ukrainian, said during an interview with Shenzhen Daily.
Diadyk used to work for a local educational company sending Ukrainian students to countries overseas for a variety of exchange programs after getting a bachelor's degree in biochemistry and finishing a postgraduate course in economics in Kyiv, capital of Ukraine. While in that job, he also found an internship opportunity for himself in Beijing, where he assisted foreign clients to invest in China, and vice versa, at a management consulting company between 2012 and 2017. He also started learning Chinese in 2016.
Having lived in Beijing for five years, he thought it was time to make some changes. Therefore, he moved to Shenzhen three years ago and continued his study of Chinese at Shenzhen University.
He works for Galaxy Industry Group, a professional industrial real estate investment and operations group company established by Galaxy Holding Group, to introduce investment opportunities for the company's investors and partners.
"The reason why I keep making changes is that life is short and I want to learn and experience more cultures. My lifelong goal is to work for society and social recognition is the most important thing for me.
"Contributing to the common goals and development of society makes me feel happy and is meaningful," Diadyk said.
"China is good at construction of infrastructure such as highways and real estate. I will feel satisfied if I can bring some major industry projects from China to Ukraine ― in that way, people from the two countries can realize more opportunities," he said, adding that he has taken a group of Chinese industrial investment experts to his homeland to facilitate potential cooperation.
Diadyk also explained to Shenzhen Daily that Ukraine has cultivated a lot of brilliant minds including some influential people in fields like aerospace, engineering, shipbuilding, Internet+, art and sports. He believes that a deeper exchange between the two countries will yield fruitful results.
Speaking of his family plans, he said that he prefers fulfilling his ambitions before considering marriage so that he can teach his children about the importance of values in humanity and the social significance to inspire them to continue his undertakings when they grow up no matter which country they will be living in.
"The year 2022 marks the 30th anniversary of the diplomatic relationship between China and Ukraine. I really hope that I can contribute to a new milestone event between the two countries at that time," he said.
In the eyes of Diadyk, Shenzhen is a young, vigorous and inclusive city and Shenzheners are open-minded and full of energy. "The development story of Shenzhen's transformation from a village to a world-class metropolis is very inspiring. I would like to stay here for another couple of years to help develop the city," he said.