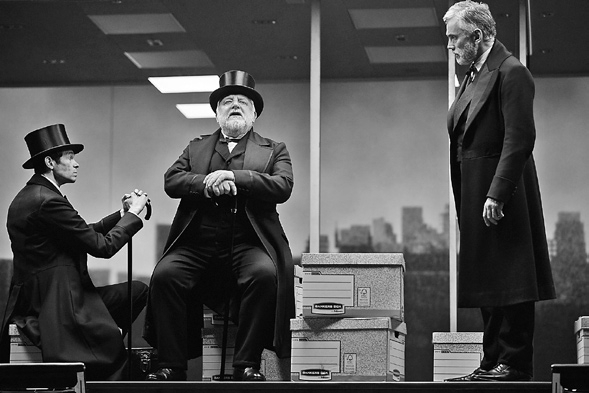 High-definition videos of classic Western operas and plays are being screened at the Pingshan Theater. Most shows were produced in recent years and some have a modern twist.
'The Nutcracker'
Peter Wright's interpretation of "The Nutcracker" has been enchanting audiences since its first performance by The Royal Ballet in 1984. Recorded in 2016, this special performance celebrated Wright's 90th birthday.
Time: 8 p.m., Sept. 22
'Monte Cristo'
The Moscow Operetta Theater celebrates the 10th anniversary of "Monte Cristo" with a riveting live-performance film.
Time: 8 p.m., Sept. 23
'Don Pasquale'
The Royal Opera favorite Bryn Terfel heads the cast for this new production of Donizetti's comedy across two generations.
Time: 8 p.m., Sept. 15
'The Lehman Trilogy'
The story of a family and a company that changed the world is told in three parts on a single evening. Academy Award-winner Sam Mendes directs Simon Russell Beale, Adam Godley and Ben Miles who play the Lehman Brothers, their sons and grandsons. This critically acclaimed play was filmed live in London's West End in 2019.
Time: 8 p.m., Sept. 30
'King Lear'
See Ian McKellen's "extraordinarily moving portrayal" of King Lear. The play was captured live from London's West End in 2018,
Time: 8 p.m., Sept. 16
'Hamlet'
Benedict Cumberbatch plays the title role in Shakespeare's great tragedy.
Time: 8 p.m., Sept. 29
Tickets: 90-120 yuan
(SD News)