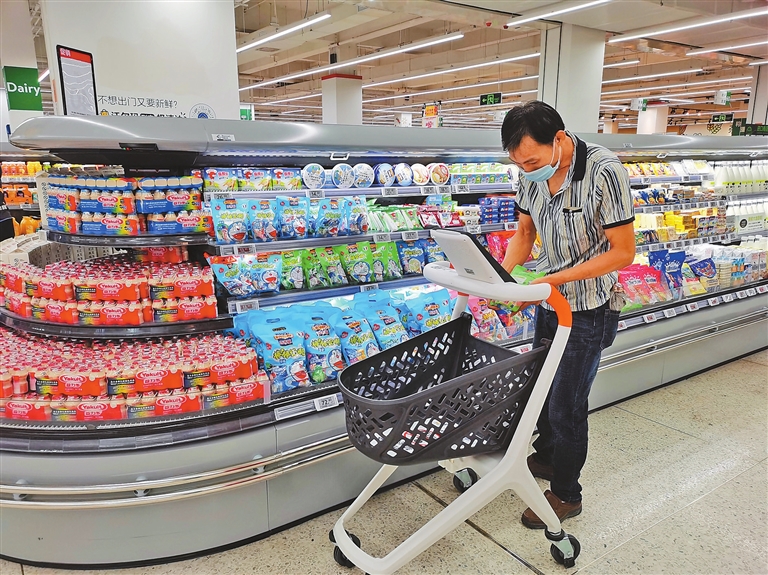 Zhang Yu
JeniZhang13@163.com
WALMART China is shifting gears to rapidly embrace digital technologies by adopting tech-enabled applications in its brick-and-mortar stores, with its OCT store in Nanshan District of Shenzhen becoming the retailer's first store that leverages state-of-the-art technologies to optimize store operations and improve customer experience.
Some of the applications that have been put into use in its OCT store includes smart shopping carts, intelligent self-service fresh produce scales, an AI-powered camera that assists with replenishment, and a wireless temperature logger, the retailer said Thursday.
In January 2019, Walmart China launched its Omega 8 innovation platform, which aims to help open cross-industry communication channels and extend cross-border innovation.
According to the retail giant, the platform serves as a bridge between technology companies and Walmart to jointly create technical solutions for the more difficult aspects of retail. After more than a year of development, the platform has completed dozens of innovative proofs of concept.
The self-service scale, for instance, integrates product recognition and has improved the shopping experience by saving customers' time and making it easier for them to shop, all while lowering operational costs, said the company.
With conventional self-service scales, customers often needed to click through several screens to identify the correct product among hundreds of possible options. This can be confusing, often leading to customers requiring staff assistance to successfully complete the weighing process.
The OCT store has also introduced 30 smart shopping carts. A code-scanning device is installed in the front of the shopping cart, which enables customers to shop and buy without going to the cashier or self-checkout.
According to Walmart China, more innovative applications of the Omega 8 platform will be tested in the OCT store in the future. The applications will be extended to stores across the country if they prove successful.