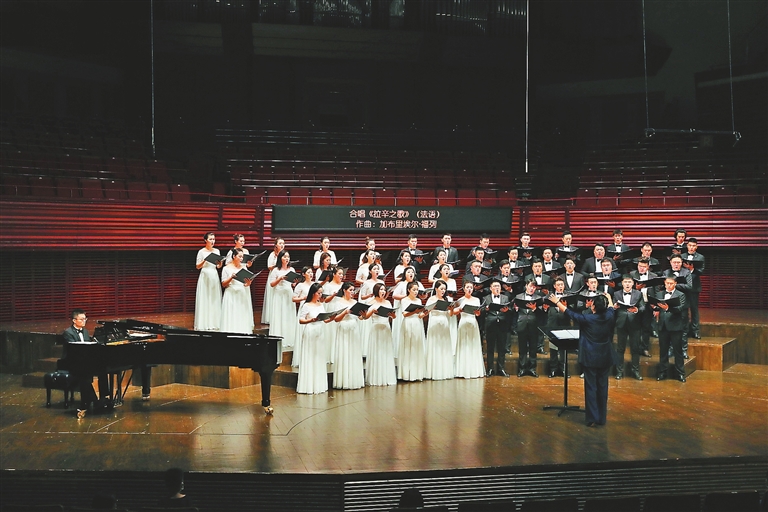 The opera troupe and chorus of the Shenzhen Opera and Dance Theater (SZODT) will present an evening of classical songs next week. The program will include the beloved works of Classical and Romantic masters as well as Chinese folk and art songs.
Opening the concert will be two a capella chorus works by Anton Bruckner, including his famous "Locus Iste." Then the audience will listen to four songs from Brahms' "Gypsy Songs, Op. 112."
Mendelssohn's "On Wings of Song" is a popular piece with music fans worldwide, which has also been adapted for various instruments.
French composer Gabriel Faure, whose refined and gentle music influenced the course of modern French music, is nicknamed by some as the "Schumann of France." The program will include his "Hymn of Jean Racine," with lyrics from the literary master Racine. The song is typical Faure music, with both long, luscious melodic lines resonant of the late Romantic period and at times atonal in nature and with the complex harmonic progressions representing more modern trends.
To mark the 250th birth anniversary of Beethoven, the concert will also include works of three Classical masters, including excerpts from Joseph Haydn's oratorios "The Seasons" and "The Creations," "A Day of Tears" from Mozart's "Requiem Mass in D Minor," and a song from Beethoven's only opera "Fidelio." The SZODT chorus will also perform Beethoven's "Choral Fantasy in C Minor, Op. 80."
The Chinese songs will include the Mongolian folk song "Wild Goose," the Uygur folk song "At Our Wedding" as well as "East Flows the Mighty River," whose lyrics come from a poem by Su Shi (1037-1101) about his thoughts on a visit to the site of the Red Cliff Battlefield.
Founded in September last year, the SZODT chorus has more than 50 members, all graduates from prestigious conservatories from home and abroad. Xie Yingbin, mezzo-soprano with the National Opera of Paris for many years, is serving as artistic director of the chorus.
Time: 8 p.m., Nov. 18
Tickets: 80-380 yuan
Venue: Shenzhen Concert Hall, Futian District (福田区深圳音乐厅)
Metro: Line 3 or 4 to Children's Palace Station (少年宫站), Exit D(Li Dan)