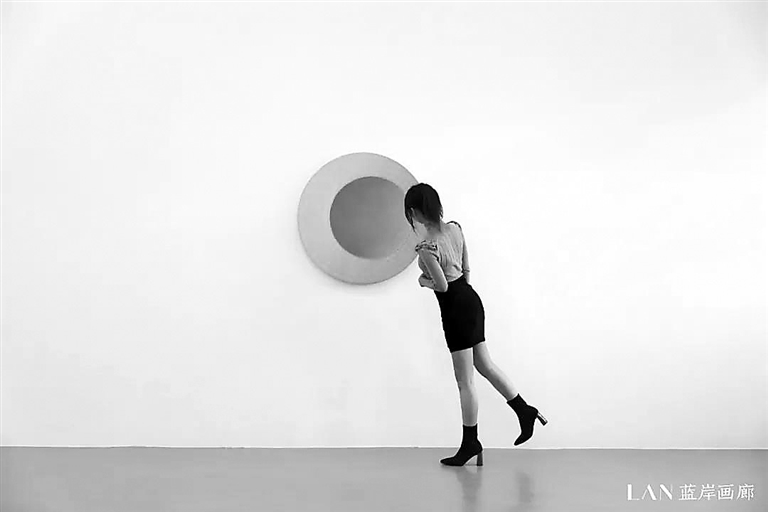 Artist Ma Shuqing is exhibiting his large-scale abstract paintings at the "Above the Plane" exhibition in the LAN Gallery.
Through artistic practice, Ma initiates continuous discussions on time, space and color, while expressing breakthrough ideologies on contemporary abstract art. Free from the restraints of two-dimensional paintings, the artist intricately smears the transparent as well as the non-transparent color on the canvas, producing a truly tangible space of color along the frame. Although the color is visible as it is, the space and time remain invisible; upon a closer look, hidden color blocks may occasionally pop into the viewers' sight. In a sense, this simply enriches layers of the painting and seems to unmask a trace of time and space.
"When I choose the Klein blue, and thought about today's context, I hit upon an idea of using this color to create a virtual space rather than to depict objects, as the world exists between concave and convex," said Ma.
"The depth of a painting is based on the interlacing of time and space in the painting process. The painting is concrete and the color is concrete but the space is virtual. This depth coexists with the concrete reality of each paint application and becomes the center of viewing the painting," he added.
Ma graduated from the Tianjin Academy of Arts and Crafts in 1976. He then studied at the Academy of Fine Arts, Munich before he received a master's degree in 1989 from the Department of Free Painting.
Ma was in Paris and Provence from 1994 to 2003. He established his studio in 798 Art District in Beijing after he moved back to China. From 2015 to 2018, he was a professor in the Department of Oil Painting in the Tianjin Academy of Arts and Crafts.
His works have been exhibited in major art events, including Art Basel Hong Kong, China International Gallery Exposition, Art Cologne and Art Beijing, among others. He has also had solo and group exhibitions in many cities including Munich, Dusseldorf, Koblenz, Seoul, Hong Kong, Shanghai and Beijing.
Dates: Until May 28
Hours: 10 a.m.-10 p.m.
Venue: LAN Gallery, 3/F, O'Plaza, OCT Harbor, Nanshan District (南山区欢乐海岸购物中心三楼蓝岸画廊)
Metro: Line 9 to Shenzhen Bay Park Station (深圳湾公园站), Exit E(SD News)