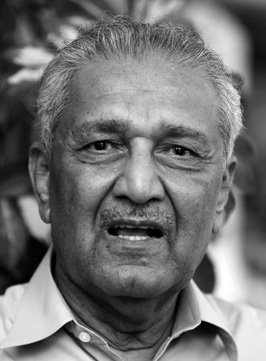 ABDUL QADEER KHAN, known as the father of Pakistan's nuclear bomb, died yesterday after a lengthy illness, the country's interior minister said. He was 85.
Khan launched Pakistan on the path to becoming a nuclear weapons power in the early 1970s. Interior Minister Sheikh Rasheed Ahmad said he died in a hospital Islamabad. He didn't elaborate.
Khan, who held a doctorate in metallurgical engineering from the Catholic University of Leuven in Belgium, offered to launch Pakistan's nuclear weapons program in 1974 after neighbor India conducted its first "peaceful nuclear explosion."
He reached out to then-Prime Minister Zulfikar Ali Bhutto offering technology for Pakistan's own nuclear weapons program. Still smarting from the 1971 loss of East Pakistan, which became Bangladesh, as well as the capture of 90,000 Pakistani soldiers by India, Bhutto embraced the offer. He famously said: "We [Pakistanis] will eat grass, even go hungry, but we will have our own [nuclear bomb]."
Since then, Pakistan has relentlessly pursued its nuclear weapons program in tandem with India. Both were declared nuclear weapons states after they conducted tit-for-tat nuclear weapons tests in 1998.
Khan was accused by the U.S. of trading nuclear secrets to neighbor Iran and to North Korea in the 1990s after Washington sanctioned Pakistan for its nuclear weapons program.
At home in Pakistan, Khan was heralded as a hero and the father of the nuclear bomb. Radical religious parties called him the father of the only Islamic nuclear bomb.
(SD-Agencies)