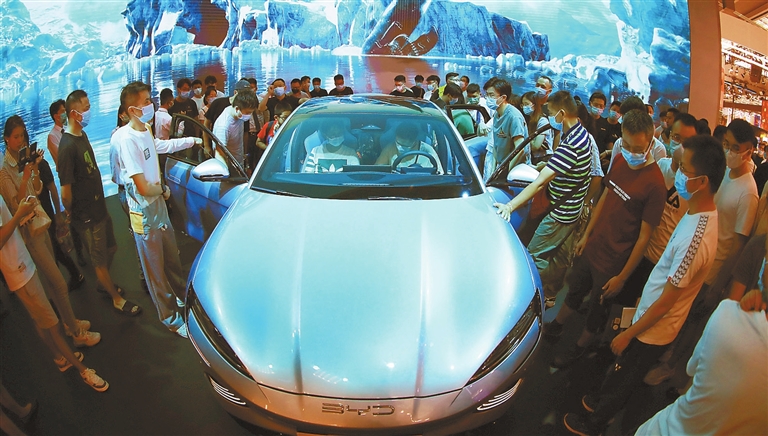 Han Ximin
1824295095@qq.com
RESIDENTS' enthusiasm for cars, especially new energy vehicles (NEVs), has been triggered by consumption incentives, which started Saturday as crowds flocked to the opening of the Guangdong-Hong Kong-Macao Greater Bay Area International Auto Show.
The show, the first national grand exhibition in 2022, displayed nearly 1,000 cars from around 100 brands at nine halls of Shenzhen Convention and Exhibition Center in Futian District, covering a total area of 130,000 square meters. The show will last until June 5.
Among the brands, 50 models were launched for the first time globally, in Asia or in China.
Shortly after the show opened, visitors crowded the halls. A resident surnamed Xiao came with her family, saying she planned to purchase an electric car to replace her fuel-powered one.
"Electric cars save costs, look fine in appearance and are intelligent," Xiao said. She finally decided to purchase BYD's flagship model Han's extended-range version sold for 229,800 yuan (US$34,300).
Last week, Shenzhen unveiled a new package of incentives to boost consumer spending, including for purchasing cars, by offering 2 billion yuan in subsidies for NEVs and raising license plate quotas for fuel-powered cars by 20,000. Those who win the lottery for fuel-powered cars but choose to buy NEVs instead, will be offered subsidies up to 20,000 yuan per vehicle.
Individual NEV buyers can get a subsidy up to 10,000 yuan per vehicle, while those replacing their old vehicles will be awarded 3,000 yuan per fuel-powered car replacement or 5,000 yuan per NEV replacement.
At the district level, Bao'an offered 100 million yuan, while Futian, Longhua, Guangming and Luohu offered 50 million yuan in subsidies for car purchases.
Nanshan District offered 150 million yuan in subsidies for car purchases. Residents can use their consumption coupons together with subsidies offered by provincial, city and district governments.
"The government's incentives to stimulate car consumption are very timely and substantial. I can save about 40,000 yuan if I use the subsidies and e-vouchers from governments and car sellers," Xiao said.
Expo visitors are required to present green health codes, provide negative 48-hour nucleic acid test reports if they are locals, or 24-hour nucleic acid test reports if they are visitors from outside of Shenzhen, and travel record codes without an asterisk. Visitors can enter the convention center by scanning their ID cards.