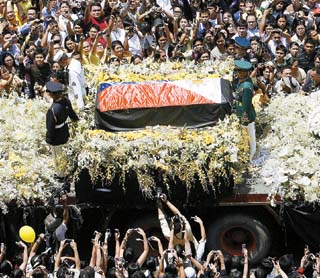 Tens of thousands of Filipinos lined the streets of Manila to see the coffin* carrying former leader Corazon Aquino make its way through the capital on Monday, in an emotional procession to the city's cathedral*.
Aquino, whose husband was assassinated* by forces loyal to dictator* Ferdinand Marcos after returning home from exile* in 1983, died this weekend of cancer and will to be buried today.
There has been a massive outpouring of tributes* for the woman fondly called Tita, or Auntie, Cory, a grandmotherly figure credited with restoring democracy* to the nation.
People from all walks of life braved rain to get near Aquino's coffin, lying on a bed of yellow flowers atop an open truck that slowly made its way through the Makati financial district.
The crowd flashed the letter "L" sign with their fingers, representing Laban (Fight), which was Aquino's party slogan*. They also sang a revolutionary anthem* and chanted "Cory, Cory."
Women openly cried as yellow balloons symbolizing Aquino's People Power revolution were released into the air.
"I would like to take this opportunity to thank you all," said the youngest of the Aquino children, actress Kristina Bernadette.
"Our hearts feel so wonderful because you are letting us feel that you loved my mom very much," she said. "I feel so blessed to be a Filipino."
She said allowing the public to openly view her mother's body was "our way of saying thank you to the people who were with us from the very start."
Aquino will be buried beside her husband at the Manila Memorial Park south of the capital in a private cemetery.
Geography -- the Philippines
Location: Southeast Asia, archipelago between the Philippine Sea and the South China Sea, east of Vietnam
Area: 300,000 sq km
Land boundaries: 0 km
Coastline: 36,289 km
Climate: tropical marine; northeast monsoon (November to April); southwest monsoon (May to October)
Terrain: mostly mountains with narrow to extensive coastal lowlands
Lowest point: Philippine Sea, 0 m
Highest point: Mount Apo, 2,954 m
Natural resources: timber, petroleum, nickel, cobalt, silver, gold, salt, copper
Natural hazards: astride typhoon belt, usually affected by 15 and struck by five to six cyclonic storms per year; landslides; active volcanoes; destructive earthquakes; tsunamis
Questions for Research
Surf the Internet to find information about the Philippines and answer the following questions.
1. How many provinces are in the country?
A. 65
B. 70
C. 72
D. 79
2. Who was the "Hero of Tirad Pass?"
A. Marcelo H. del Pilar
B. Juan Luna
C. Gregorio del Pilar
D. Andres Bonifacio
3. The Mayon Volcano is located in what province?
A. Camarines Sur
B. Catanduanes
C. Albay
D. Masbate
4. Which Philippine hero was born in Ilocos Norte and was also known for his "Spoliarium?"
A. Gen. Antonio Luna
B. Andres Bonifacio
C. Emilio Jacinto
D. Juan Luna
5. In which town is the First Monument of Rizal located?
A. Naga
B. Daet
C. Manila
D. Basud
6. What are the official languages of the Philippines?
A. Bicol and Ilocano
B. Cebuano and Chinese
C. Filipino and English
D. Tagalog and Spanish
(see answer on NIE Page 7)
coffin n. 棺材
cathedral n. 大教堂
assassinate v. 刺杀
exile n. 流亡
tribute n. 敬意
democracy n. 民主
slogan n. 口号
anthem n. 圣歌