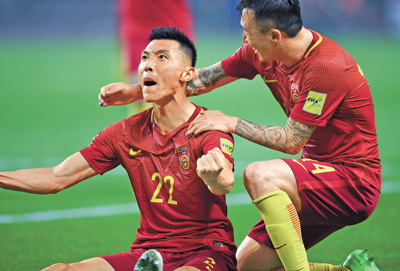 Yu Daobao (L) of China celebrates after scoring in a World Cup qualifier match against South Korea in Changsha, Hunan Province, on Thursday. China edged past South Korea for a precious 1-0 home win to keep its World Cup qualification hope alive. Yu nailed the first victory in six matches for the host in the 34th minute at the third round of the Asian Zone qualifier.
UNESCO PRAISES SZ INTL. MUSIC FESTIVAL
UNESCO has sent a congratulatory letter to Shenzhen for the first 2017 Shenzhen Belt and Road International Music Season that will kick off Saturday, which will bring traditional and classical music from nearly 30 countries and regions that lie along China's two ancient world trading routes.

...
7 ARRESTS OVER LONDON'S TERROR ATTACK
POLICE investigating the deadliest terror attack in central London in 12 years have arrested seven people and searched six addresses, Britain's most senior counterterror police officer said Thursday.

...