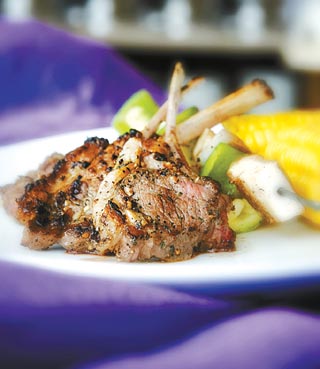 Wang Yuanyuan
THERE'S nothing quite so enjoyable as an exquisite dinner with close friends in the breezy open air of an evening or escaping after a hard day for an ice-cold beer or a cocktail.
If this is what you are looking for, the Garden BBQ·Lounge at the Shenzhen Oriental Ginza Grand Mercure Hotel in Futian District is just the place.
Opening in June last year, the lounge is expected to reopen March 8 after the annual winter closure. Diners are now being offered a selection of exquisite, classic Western-style cuisines.
Although the menu lists only one salad, eight main courses, two desserts and one ice-cream, they are all popular with diners at prices ranging from 38 to 108 yuan. In the first month after reopening, there is a free salad bar and a bottle of free beer to go with the dishes.
All meat is imported so diners can experience the original taste of the meat without heavy sauces and spices. The grilled beef rib eye steak with thyme and garlic butter and grilled salmon with nectarine salsa are two musts.
There is also an open air lounge, with a wide range of liquor and soft drinks for those who just want to relax and chat with friends after work. You can even enjoy a sunbathing in the afternoon with a cocktail by your side.
The small BBQ lounge is also a perfect place for small gatherings and family parties. With a minimum charge of 2,000 yuan, it is ideal for private parties with friends and family.
Apart from the existing courses, the menu can be discussed with chefs in advance or there is a comprehensive BBQ buffet. Dishes can be provided according to your wishes for an intimate gathering. In future, the lounge will be open for private parties during winter.
Venue: Shenzhen Oriental Ginza Grand Mercure Hotel, Zhuzilin, Shennan Thoroughfare, Futian District (福田区深南大道竹子林深圳东方银座美爵酒店)
Tel: 8302-9198
Buses: 101, 113, 204, 223
Metro: Zhu Zi Lin Station (竹子林站), Exit B2