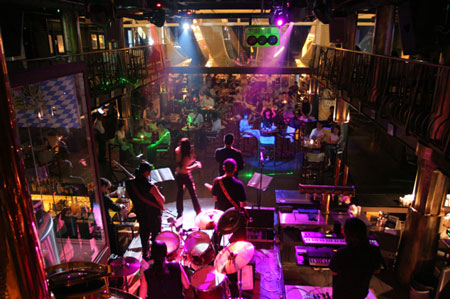 L?wenburg Brauerei and Restaurant
    An unique German Microbrewery and restaurant with resident German brew-master. Food specialties are home made sausages and crispy pork knuckle. The restaurant divided into two sections, indoor lounge and terrace beer garden. An all female Filipino band sings a variety of soul, rhythm and blues. Get relaxed in the unique Shekou cruise ship environment.
    Business Hour: 17:00 PM to 02:00 AM Weekdays    14:00 PM to 02:00 AM Weekends
   6F, Cruise Inn, Sea World, Shekou  (0755) 2689-2668, 2668-1439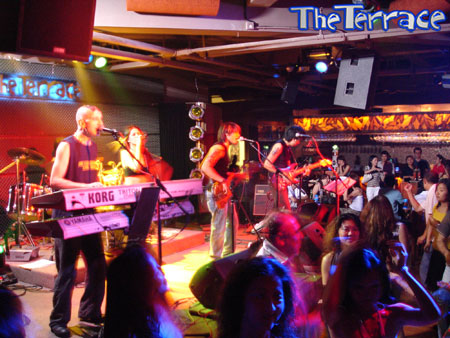 The Terrace - Thai & American Food, Live Music    
    Located in the heart of Shekou entertainment district, with the finest live band and both American & Thai Food. The food is authentic spicy thai, with als good old American bar food and salads. A Filipino band with a talented musical director, Leon Durupt, a Canadian who has been singing in China for 7 years. A large balcony is great for food and getting a rest from the excitement. Opening Hours: 9 AM-2:30 AM Kitchen opening hour 11:30-16:00, 17:30-1:30 Seworld Square, Shekou (above Starbucks)  (0755) 2682-9105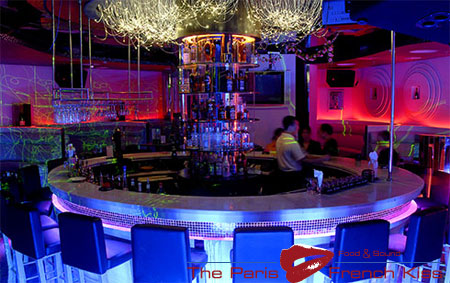 The French Kiss Club     
    Upscale nightclub with a trendy crowd. Has a good flow for meeting people and friendly bar tender. You can start the night out in the upstairs French restaurant and then come down to dance. (See The Paris Restaurant entry) Hours: 7pm until late No. 57-58, Seaworld, Shekou, Nanshan (0755) 2683-9629
Soho Nightclub
        Just celebrating 2 years of business they have added new drink list including champagne cocktails, rearranged the bar for faster service, and added a DJ Booth near the dance floor. If you need a rest from dancing, sip a cocktail in the outdoor garden. Late night snacks include Pizzas and Tacos. Open 8:00pm until Late Bitao Club,TaiZi Road, Shekou (behind Casablanca & X-TA-SEA Bar) (0755) 2669-0148/2669-2148
* X-TA-SEA 
Taizi Rd. behind the Haitao Hotel, Shekou Bar Street
(0755) 2686-7649
Bar to hang out at in Shekou. Two regulation pool tables, two Dart Boards, a Foosball table, an 100" Big Screen TV and the largest dance floor in the bar triangle. Now with X-TA-SEA 2 second room a quite place to play pool or darts.
 
* A Zone

Shekou Seaworld Square
tel: (0755) 2669-0000
New large disco in Shekou about to open with house and hip hop rooms. 
* Mustang Sally Chuck Wagon Bar & Grill

Sea World Plaza Shop 63-69, Shekou (Next to Mamma Gelato)
tel: (0755) 2667-6127
This place is probably the best for Americn style BBQ chicken wings and a common place for Shekou residents to play pool. At night there is live music though the volume usually turned up to eleven. 
* Bear Paradise

No. 07-08, Central Square, Sea World Shekou
tel: +86-13242912500 (Anna)
Beers from around the world concept bar that needs a little bit of support. Stop in and have a cold one. 
* Captain's Club Wine & Cigar Bar 

Minghua Boat, Seaworld Square, Taizi Rd., Shekou (Inside hotel entrance and up the stairs)
Take a friend or customer for a bottle of wine and a cigar in this wine and cigar bar located in inside the Minghua Ship. The nautical theme creates a very classic atmosphere to enjoy your wine. There is also an extensive selection of whiskeys.

* Snake Pit 
16G Taizi Square, above the "Red Lantern Restaurant", at the back of "Pizza Hut"
Now with a new location, this is the original expat bar in Shekou where you will always find someone ready to talk. Must become a member but that is easy to do if you bring 700RMB. Just don't answer your mobile inside or you'll have to buy everyone a round. Don't bother dressing up either or you'll lose your tie. The hash and touch rugby are all run out of here.
* Taizi Hotel Bar (Bill's Bar) 

No. 5. 1/F, Taizi Hotel Taizi Rd. Shekou (in back of the hotel)
(0755) 2668-4192
Tucked in the back of the Taizi Hotel you'll find a very welcoming place with a very welcoming manager named Bill. He'll fix you up a drink just the way like it. He is good at making special cocktails that you normally don't find around here. We think this is a great place to go with a group of friends.

* McCawley's Irish Bar & Restaurant 
Shop 118 Sea World Complex Shekou off of Taizi Rd. (near the Minghua Boat)
(0755) 2668-4496
An Irish Pub done right and the most authentic place in the whole of South china that you can enjoy Guinness on tap. Also has a full dining menu including Steak and Guinness Pie. After one year of business they have expanded with a beautiful rooftop beer garden with big screen projector to watch all your favorite sporting events in the cool breeze. Operation hours: 11:30am-2:00am, Kitchen Hours: 11:30am-11:30pm.