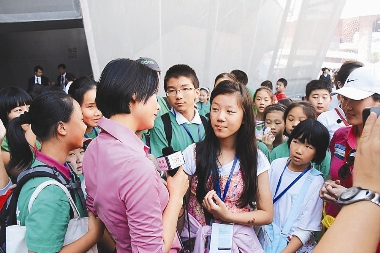 林小茵 华侨城小学六(4)班 
   I spent one of my best National Day holidays in Shanghai. I was very honored to be one of the Shenzhen junior English journalists to visit the Shanghai Expo on a four-day tour.
    As VIP guests, we journalists could go straight inside every pavilion without queuing up.
    "Better city, better life" is the slogan of the 2010 Shanghai Expo. I think every country brought their latest technology to the Expo. Every pavilion has strongly inspired me. My favorite pavilions were the German and the U.S.A. pavilions.
    In the U.S.A. Pavilion, I watched the best short movie of the whole Expo. U.S. President Barack Obama talked about the people of the United States and China. It was a really persuasive speech.
    After that, we visited the German Pavilion. An exciting thing happened! A CCTV reporter came to ask us a few questions. I was honored to be one of the reporters to answer them.
    The CCTV reporter asked me which pavilion was my favorite.
    "Um, the American one and the German one," I said.
    "So, what's your favorite part?"
    "I love the movie in the U.S.A. Pavilion. I love the DIY things inside the German Pavilion. The kids loved them all. It was really, really exciting."
    I was proud to represent 50 Shenzhen junior English reporters. The CCTV reporter made an impressive comment about our English level.
    She said Shenzhen junior reporters not only spoke wonderful English, but also had nimble minds.
    I would like to thank the Shenzhen Daily for all these wonderful opportunities. We can increase our knowledge and know what's happening in our amazing world. At the same time, we can show ourselves off and raise our self-confidence.
    As a citizen of the People's Republic of China, I am extremely proud that my country held such a huge event — the 2010 Shanghai Expo. There will be another huge event in Guangzhou — the 16th Asian Games — and the 2011 Summer Universiade in Shenzhen.
    As a primary school student, and a junior reporter, I warmly welcome the guests from all over the world.