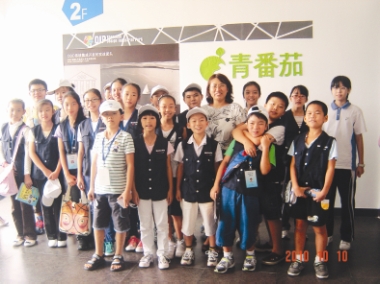 易陆御豪 北师大南山附中八年级                                  
    On October 10, we Shenzhen junior English journalists assembled at the office of Green Tomato (GT), the largest online library in China. I was deeply impressed by the unique decoration and the cozy working environment.
    First we were trained in interviewing skills. Teacher Zhou started the course in a humorous way. We learned lots of important skills in a relaxing and amusing atmosphere.
    Next, we were to have a simulated press conference. We began to interview two of the staff members in charge. During the interview, they answered all of our questions patiently and fluently in English. We were informed that GT was a new corporation. To my surprise, the per capita book possession in China is much lower than that in Japan and Israel.
    Wisdom is to the mind what health is to the body. Reading is closely related to the educational level and the prosperity of a country. "Spreading the fragrance of books all over China" is the everlasting goal of GT. The readers can borrow books free of charge from the E-library. It's great! We hope there will be more and more Green Tomatoes.
    Reading makes a full man and elevates the mind. The more we read and the more we meditate, the more knowledge we will acquire.