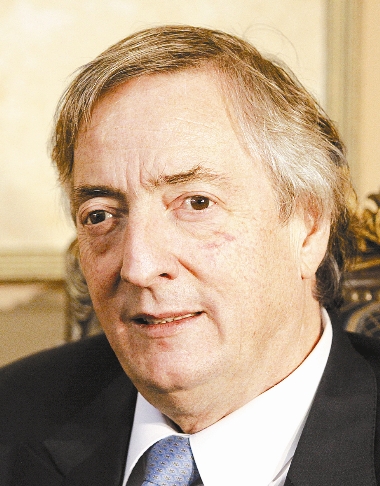 Nestor Kirchner, the former president of Argentina who led his country out of a crippling economic crisis before being succeeded by his wife, died unexpectedly early Wednesday, apparently of a heart attack, opening a period of intense political uncertainty in the nation.
    WHEN Nestor Kirchner, who died Wednesday morning from a heart attack at age 60, became president of Argentina in May 2003, one of Latin America's largest economies was in frightening free fall.
    During the crisis' darkest days, in late 2001 and 2002, the peso had lost 75 percent of its value against the U.S. dollar, the nation had defaulted on almost US$100 million of debt and an enraged middle class saw its bank accounts frozen to halt runs on banks. Amidst the often violent chaos, Argentina had tangoed through five presidents in less than 17 months.
    Kirchner, an obscure provincial governor from Argentina's southern Patagonia region, finally restored economic order. His self-described "heterodox" mix of Peronist populism and fiscal discipline baffled international lenders (and infuriated some) but produced some of the region's highest growth during his four years in the Casa Rosada.
    In 2007 Kirchner stepped aside so his wife, Cristina Fernandez, could run for president.
    She won, but Kirchner remained Argentina's most important politician, widely considered the power behind her throne. He was expected to run again next year as Fernandez in turn stepped aside for him — part of what fans and foes alike called the couple's "shared presidency."
    As a result, Kirchner's sudden death, at their weekend home in the Patagonian town of El Calafate, is almost certain to throw Argentine politics into turmoil.
    When Kirchner ran for the presidency in 2003 he was a political dark horse, little known outside his province of Santa Cruz, where he'd been a popular governor since 1991. But it was there that he began to define his more centrist populism.
    Though he was critical of the shift by then President Carlos Menem, also a Peronist, to free-market neoliberalism, Kirchner fostered increased capitalist growth in Santa Cruz while promoting social programs that narrowed the province's enormous wealth gap.
    That experience bore fruit for Kirchner after he defeated Menem for the presidency in 2003. Even though his victory was hardly a mandate — he scored only 22 percent of the vote in the first round and then won the runoff only because an aging Menem withdrew — a combative and sometimes authoritarian Kirchner strode into Buenos Aires wielding an unorthodox economic plan.
    He refused to follow International Monetary Fund (IMF) guidelines, but he succeeded in restructuring Argentina's debt although many investors weren't happy to see their bonds reduced to about a third of their value in the process, and in a political flourish, paid off its IMF debts in 2005.
    To keep Argentina's crisis-angry population of 40 million governable, Kirchner took populist measures such as renationalizing certain utilities and setting export limits on essential goods. He also replenished the country's foreign reserves and encouraged new industries such as biotechnology.
    Kirchner, a foreign policy leftist who kept the United States and George W. Bush at a cool distance, called his middle path "a kind of globalization that works for everyone and not just for a few." It was a philosophy other Latin leftists, like Brazilian President Luiz Inácio Lula da Silva, have also had success with.
    He also pressed Supreme Court justices to resign and overturned amnesty laws for military officers who had been accused of assassinations and torture during the military dictatorship.
    "In a very unstable situation he took absolute control," said Mark Jones, a political science professor at Rice University.
    Under Kirchner, the country rode a global commodities boom that increased exports of its agricultural products, stimulated domestic spending and helped get the country out of its economic crisis.
    But once the economy stabilized, Kirchner continued his contentious style, issuing decrees and concentrating power in the executive. Some began to accuse him of authoritarianism.
    "He had a ruthless view of politics," said Daniel Kerner, a Buenos Aires-based analyst with Eurasia Group, a risk consultancy. "If you are not the toughest, people will take advantage of you; that's how he saw politics."
    By 2007, Fernandez, whom Kirchner had met at law school, was a Senator and was often being compared to another powerful Argentine female, Eva Peron, or "Evita," the wife of 20th-century strongman president Juan Peron.
    Riding Kirchner's popularity, she won the presidency that year in a landslide. Together they formed one of the world's most powerful political couples. As president, Fernandez was more often the public face of their partnership, while he was the master political operator, pulling the levers of the Peronist machinery.
    Many Argentines were also betting that he, not his wife, would run for president next year, part of what analysts frequently called the couple's leap-frog strategy to create a lasting dynasty by passing the presidency between them for multiple terms.
    His death could either bolster or hurt Fernandez's political prospects, analysts said. Her government was extremely unpopular in her first two years, but it has been rising in popularity in recent months amid an economy the Argentine Central Bank expects to grow by 9.5 percent this year.
    "The reaction at first will be of grief and condolence, but then the vultures will move in," said Federico Thomsen, a political consultant in Buenos Aires. "Initially there will be sympathy for her, but that won't last too long. She will need to captain the ship."
    (SD-Agencies)